MINDMAP OF COMEDYBOX
by Clint Taniguchi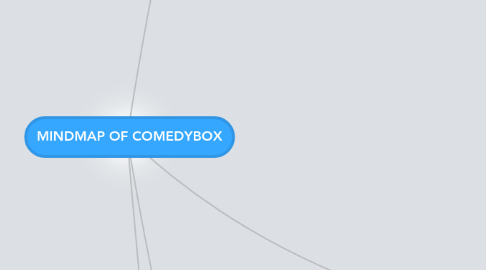 1. Slacktivism - how Gen Y interact and protest digitally
2. Team
2.1. Potential Cast
2.1.1. Joy Buckle
2.1.1.1. Huntley & Palmers Ad (0:32)
2.1.1.2. B-Guided TV - Wynyard (6:58)
2.1.1.3. The Last of the Red Hot Lovers (0:44)
2.1.1.3.1. NZ Herald Review
2.1.1.3.2. NZ Herald Article
2.1.2. Daryl Habraken
2.1.2.1. Voiceover Artist
2.1.2.2. Daryl owns and operates a Phantom Camera - able to shoot 1000+ frames a sec
2.1.2.2.1. Music Video for Cairo Knife Fight made with Karl & Alex
2.1.3. Britta Brandt
2.1.3.1. Customised Casting Reel (2:09)
2.1.4. Alan McElroy
2.1.4.1. Website
2.1.4.2. Videos
2.2. Crew
2.2.1. Jon Ulrich
2.2.1.1. Projects
2.2.1.1.1. The Ex Men (8:21)
2.2.1.1.2. Dwarf Bartender Series
2.2.1.2. Additional Videos
2.2.1.2.1. Teasers
2.2.1.2.2. Theatre comedy
2.2.1.2.3. A personalised Showreel
2.2.1.3. CV
2.2.2. Alex Lawson
2.2.2.1. videos
2.2.2.1.1. Head Like a Hole - click arrow to view
2.2.2.2. Profile
2.2.2.2.1. CV
2.2.2.3. Website
2.2.3. Karl Lear
2.2.3.1. videos
2.2.3.1.1. Keith Lemon's Guide to Being a Man - click the arrow to view
2.2.3.1.2. MINI 'Openess' click the arrow to view
2.2.3.1.3. Bic Runga 'Hello Hello' click arrow to view
2.2.3.1.4. Our Vimeo Channel
2.2.3.2. profile
2.2.3.2.1. CV
2.2.3.2.2. website
2.2.4. Clint Taniguchi
2.2.4.1. Projects
2.2.4.1.1. Instant Drawing Machine
2.2.4.1.2. Archive
2.2.4.1.3. Presentation at Pecha Kucha
2.2.5. Tama Sefuiva
2.2.5.1. Profile
2.2.5.1.1. articles
2.2.5.2. Website
2.2.6. Tane Jarrett
2.2.6.1. Toyota Hilux TVC
2.2.6.2. Big Miracle Animatronic Whales
2.2.6.3. Tane's Studio/Workshop (click)
2.2.7. Scott Reynolds
2.2.7.1. Films
2.2.7.1.1. The Ugly (1997)
2.2.7.1.2. Heaven (1998)
2.2.7.1.3. When Strangers Appear (2001)
2.2.7.1.4. A Game with No Rules (1994)
3. Content
3.1. SHORT FORM VIDEOS
3.1.1. TEASER VIDEOhttp://vimeo.com/51514345
3.1.2. STOP THE INTERNET
3.2. GIFS
3.2.1. TITLE GIF-Joy ranting with Stop the Internet sign
3.2.2. SIDE STORY GIFS- Darryl and Lana getting close, too close? Open dialogue to share encounters with the boss that was just a tad too close for comfort
3.2.3. JOY kicking Andy on the butt while lying down- keep fighting when youre down!
3.3. QR CODE
3.3.1. QR INTERFACE
3.3.1.1. PRINTING
3.3.1.1.1. Mobile QR printed codes allows audience to be mobile points of entry into games within local community
3.3.1.2. CUSTOM DESIGN
3.3.1.2.1. Functional QR code composed from bottle caps which can be related to actors within the story or set of SFCs. << scenario, two girls watching a video on a smartphone. The one holding it has a surprised look and presses pause on the video. It is a QR code and the other has the same surprised look and then goes to grab her own smart ph presses buttons and scans her friends qr code screen. They both look at the QR results and it says "Congratulations! You caught a *Lucky Duck!* Goto Queen St and Custom to receive your special treat! Bring a mate along with you as well ;)
3.3.1.3. TEMPORARY INSTALLATIONS
3.3.1.3.1. Interactive QR design that is time sensitive to the angle of sun associates this novel idea cross culturally in a positive way and makes for a distinctive CB video shoot
3.3.2. QR FUNCTION
3.3.2.1. Short Form Content VIDEO
3.3.2.2. PRIZE VOUCHER
3.3.2.3. COLLECTING MARKERS TO FINISH AN ADVENTURE
3.4. HASHTAGS
3.4.1. PHYSICAL BANNER IN STRATEGIC LOCATIONS http://coastlinecreative.co.uk/tag/hashtag/
3.4.2. WEB BANNERS
4. Platforms
4.1. FACEBOOK
4.1.1. Showcasing GIF of the week: Open commenting for the best title that fits the gif animation
4.1.2. Special event GIF workshop- shooting, editting and converting your own 2 sec comedy
4.1.3. Announcements: Darryl will announce Monday's UMPH tweets on Radio during lunchtime today
4.2. LOCATION MAP APP
4.2.1. Events, protests, happenings location. Where scenes are shot.
4.3. RADIO
4.3.1. CONTEST FOR VOICEOVER TALENT USED FOR AN ANIMATION
4.3.2. PLAYING GR8 SOUND BYTES OF ENTRIES
4.4. TWITTER
4.4.1. REAL TIME ANNOUNCEMENTS OF FLASHMOB 2.0
4.4.2. ARTICLES (NZHERALD ONLY?) THAT STIRS DIALOGUE & ENGAGEMENT http://www.businessinsider.com/iran-plans-to-stop-using-the-internet-by-2013-2012-8
4.5. GAMES
4.5.1. 1.Hear a Tweet of a burst happeningLOCATE, FIND THE DIRECTIONS & GO!
4.5.1.1. 2. Locate, Find the Directions & Go!
4.6. Visuals
4.7. HASHTAGS
4.7.1. PHYSICAL BANNER IN STRATEGIC LOCATIONS http://coastlinecreative.co.uk/tag/hashtag/
4.7.2. WEB BANNERS
4.8. Print
4.9. Instagram
4.10. Email marketing
4.10.1. SpikeMail
4.11. Youtube
4.12. NZHerald.co.nz
4.12.1. Marketing badge
4.13. Comedybox Channel
4.14. GIFs
4.14.1. GIF of the Week
4.14.2. Top 10 GIFs in NZ