Oceans: A First Grade Theme by: Jennifer Smith
by Jennifer Smith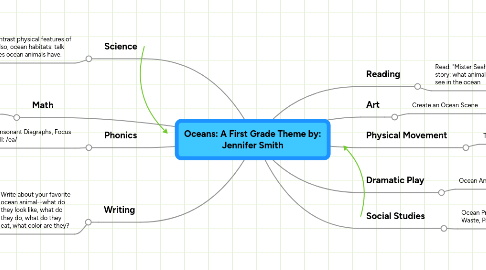 1. Reading
1.1. Read: "Mister Seahorse" and talk about the story: what animals did the baby seahorse see in the ocean
1.1.1. Activity: Talk with a buddy about your favorite ocean animal, what was your favorite animal in the story
2. Science
2.1. Compare and contrast physical features of ocean animals. Also, ocean habitats: talk about what homes ocean animals have.
2.1.1. Activity: Draw pictures of different ocean animals. Look at facts about different animals and make a bubble map using describing words for that animal. Have students work in groups to talk about the differences and similarities of all the animals. Also, talk about ocean animal homes: compare and contrast using pictures and describing words.
3. Social Studies
3.1. Ocean Problems: Pollution, Waste, Problem Solving
3.1.1. Activity: Talk about ways you can clean up the ocean and prevent waste from entering the ocean. Problem solving with a group of peers. Make a graphic organizer with ideas. Make an advertisement about stopping ocean pollution.
4. Writing
4.1. Write about your favorite ocean animal--what do they look like, what do they do, what do they eat, what color are they?
4.1.1. Activity: After students are done writing and illustrating, have 5 students share out their journal writing with the class. Also, have students share their writing with a buddy.
5. Art
5.1. Create an Ocean Scene
5.1.1. Materials Needed: Blue Construction Paper, Seahorse ocean animal cutouts, glue, scissors, crayons, markers
6. Math
6.1. Ocean Word Problems
6.1.1. Activity: Create a math workbook with word problems pertaining to the ocean. Have students answer word problems and count ocean animals with addition and subtraction problems.
7. Dramatic Play
7.1. Ocean Animals Play
7.1.1. Activity: Have students act out their favorite ocean animals and how they interact with each other. Create parts for students.
8. Physical Movement
8.1. TPR Song about Ocean Animals
8.1.1. Activity: Students will act out a song about ocean animals using movement with their bodies.
9. Phonics
9.1. Consonant Diagraphs, Focus Skill: /ea/
9.1.1. Activity: Phonics Bingo Game, Sight Word Bingo Game with words that concentrate on consonant diagraphs (sh, ch, th).