COLLABORATION -Diversity
by Seema Sumod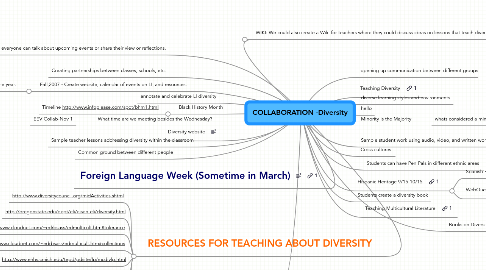 1. hello
2. Foreign Language Week (Sometime in March)
3. Hispanic Heritage 9/15-10/15
3.1. Spanish Harlem
3.1.1. Spanish Baseball Hall of Fame
3.2. WebQuest
4. Black History Month
4.1. Timeline http://www.infoplease.com/spot/bhm1.html
5. Minority is the Majority
5.1. whats considered a minority
6. What time are we meeting besides the Wednesday?
6.1. EEV Collab-Nov 1
7. diverse learning styles and environments
8. annotate and celebrate LI diversity
9. Diversity website
10. Teaching Diversity
11. RESOURCES FOR TEACHING ABOUT DIVERSITY
11.1. http://www.diversitycouncil.org/midActivities.shtml
11.2. http://oregonstate.edu/dept/eli/eisen-eli/diversity.html
11.3. http://www.cloudnet.com/~edrbsass/edmulticult.htm#tolerance
11.4. http://www.cloudnet.com/~edrbsass/edmulticult.htm#collections
11.5. http://www.ehhs.cmich.edu/tepd/pdsite/lp/mcdivlp.html
11.6. http://www.nationalgeographic.com/xpeditions/lessons/18/g912/afrolanguage.html
11.7. http://www.teachersagainstprejudice.org/
12. Fall,2007 - Create website, calendar of events on LI, and resources.
12.1. The calendar will help to celebrate diversity and discuss it in class throughout the year.
13. Sample student work using audio, video, and written work.
14. Sample teacher lessons addressing diversity within the classroom
15. Cross cultures
16. Common ground between different people
17. opening up communication between different groups
18. Creating partnerships between classes, schools, etc.
19. BLOG: Creating a blog about diversity everyone can talk about upcoming events or share their view or reflections.
19.1. Students can talk about their experiences with overcoming diversity
19.2. Students can share cultural differences
19.3. Students and teachers can share customs and traditions to educate everyone about the cultural diversities.
20. WIKI: We could also create a Wiki for teachers where they could discuss ideas on lessons that teach diversity.
20.1. Students and parents could also use wiki for support
21. Students can have Pen Pals in different ethnic areas
22. Teaching Multicultural Literature
23. Books on Diversity
23.1. http://www.atwoodpublishing.com/books/235.htm
23.2. http://www.diversity-books.com/
23.3. http://www.uscupstate.edu/academics/education/diversity/default.aspx?id=7498
23.4. Books for Teaching about Cultural Diversity Through Celebrations
24. http://www.diversityresources.com/
25. Students create a diversity book