RCMS School Improvement
by
Kelly Berenda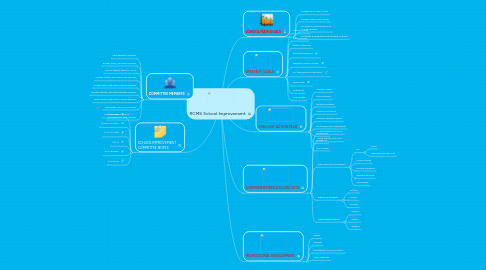 0.0
stars -
0
reviews range from
0
to
5
RCMS School Improvement
Kelly Berenda, Principal
Rodger Seats, Assistant Principal
Natalie Waling, Literacy Coach
Colleen House, 8th Grade Math Teacher
Angela Nagel, 8th Grade Reading Teacher
Jennifer Stanley, 6th Grade Reading Teacher
Rose Scherer, 8th Grade Science Teacher
Jeana Raby, RCMS Art Teacher
Mike Feagans, RCMS Business/Info Tech Teacher
SCHOOL IMPROVEMENT COMMITTEE NOTES
Meeting Dates
October 17 November 28 December 12 January 16 February 13 March 13 April 17 May 22
11/28/2012 Notes
School Improvement Meeting Notes: 11/28/2012-Big concern is the bottom 25 and low growth kids at each grade level-What strategies do we need to focus on? -Star data and how to incorporate other subjects -Would require school-wide committment -Incorporate a reading block in place of a student's zone class -concern for the lack of differentiation in the language arts classrooms -Natalie and Colleen will be meeting with the math/special ed/reading departments -add - Natalie will meet with Language Arts department to discuss STAR data and how it applies to this subject area - this will be separate from reading department - Berenda to attend as well -Word Within the Word books and lessons can unlock 80% of the understanding of text. -Standards have to be addressed with fidelity -Possibly beginning additional block at start of 2nd semester after reading department meets to organize -Need to add books to our library at the higher level and lower level -Possibly borrow books from Van? Primary? Public Library? -Math to use Ten Marks for Math students for remedial purposes in Zone starting 2nd semester -Colleen to meet with Math Teachers to discuss plan for repeaters of modules and those in the bottom 25 -What about the parents of our bottom 25? -Resume building for parents and then have the kids come with them to do reading logs -College Go week - need to be better publicized - athletic conflicts -Feed them and they will come -Re-establish TEAM RCMS (Metanias) -Parent Training - Show them how to do a reading log through a home visit - if don't allow then require them to come in early/late with their child to do the same. Could track the data of the kids you do this with. Training repeated for those who are in the bottom 25 the next year. Second semester of 8th grade the most crucial and parents sign contract that they come for additional instruction. Could we provide transportation? Mornings would work better than afternoons. STrongly feel that last year's catch up sessions worked well and made a huge difference
12/12/12 Notes
AGENDA I. Parent Teacher Conferences II. Progress on Math& Reading Meetings/Trainings III. Implementation of strategies for 2nd semester IV. Strategies specifically for high ability students V. Parent Involvement - TEAM RCMS/PTA/PTO MEETING NOTES -Go ahead with Fall and Spring Dates for parent teacher conferences for the 2013-14 school year. Exact dates will be determined after looking at athletic schedules. -In 8th grade, Mrs. Cates would like to take 15 students to make a class to provide remedial services. The concern was expressed that scheduling for math modules would become and issue. -Would like to focus on additional instruction in reading, specifically as it applies to writing skills. Concern for replacing an already established class that focuses on lower level skills. -There is a need for writing teachers to be trained to interpret scores twos way. -Discussion of students may not be ready to do upper level skills in reading and math. -Research skills are something that students are struggling with. They have issues with being patient to get the information they need. -The asymmetrical development of high ability students is difficult at this level. Sometimes they just need to be told to do something specific and not given a choice. -The high ability folks have designed a k-8 curriculum that has rigor and all the things you need that will be released late summer or early fall. -TIMELINE FOR READING/MATH ADDITIONAL INSTRUCTION -Start by meeting with reading teachers and literacy coach to design a preliminary program model with the goal being implementation for 2nd semester. Reading teachers will meet on Wednesday the 19th. -Additional meetings will take place after the holiday break. Students will be selected based on bottom 25 and those with low growth. Zone teachers will work with these students and will be guided by literacy coach and reading teachers. -Math teachers will be working with Zone teachers to address individual students and skills via Tenmarks. This will begin 2nd semester. NEXT MEETING AGENDA - January 16th -High ability student strategies for growth -Parent Involvement -Technology in the classroom
1/16/13
The meeting started with discussion regarding changes at the DOE and what to expect in the future. NO ONE KNOWS! AGENDAI. Parent Teacher Conferences a. Next year will include 3.75 hours of PT conferences per semester. Email was sent to all about the changes for next year. Same format will be used as the last couple years with round robin fashion. All schools will be doing their own schedules with separate dates. II. Progress on Math& Reading Meetings/Trainings-AR training was done for the reading teachers and literacy coach with one special ed teacher. The way it was designed, it would have to be our reading program. Textbooks were only used to guide lessons. The difficulty lies in having 50 minute classes as opposed to a reading block of 90. The data was supported by scientifically based facts. It appears that this would work based on what was presented.-Discussion was held regarding implementing a new form of alternative setting for at risk students at each grade level. -Further discussion indicated that it may be beneficial to block just reading for next year. Concerns were that there would be conflict with math modules-Further discussion will be held regarding this as an option for next school year. -The STAR training reviewed all the reports and it was determined that we did the wrong test! If a student retakes the same day it will wipe out that score, but not if done on a different day.-Math discussions regarding STAR has been discussed but not planned. This will be something addressed in the future. -What training needs to take place within our building? All teachers need to be trained on how to read the STAR reports. Concern is that ELA teacher indicate that this does not apply to them. We will need to get access to this data to all teachers in the building and teach them how to interpret it. The librarian needs to be included in the training. -Training-concern that there needs to be outside trainer for teachers to take it seriously. III. Implementation of strategies for 2nd semester-Implementing the AR Reading class for bottom 25 readers. A letter was devised to send home to parents with students and in the mail. -Catch up programming will begin on 1/28. Letters were stuffed and mailed today.-A few kids who have repeated modules two times. Exceptions to the 80% have been made if they are close. Some will be continue to "bottom out" until data is available to prove that perhaps their diploma track needs to be revisited.-ISTEP skills are being used as bell work in grade level classes-All students enrolled in the catch up program will be STAR assessed on the first day of the program (1/28). Progress monitoring will be conducted at least every other week. Discussion was held regarding the curriculum of the catch up program. The applied skills tests for 2011 & 2012 are on the DOE site. This may be a great idea for consistency in instruction across grade levels and subject areas. IV. Strategies specifically for high ability students-With the changes at the state level, the focus of instruction and strategies is unknown. -The discussion moved toward concern for those students that consistently fail to do their homework and exhibit apathy toward just bout everything. These students exhibit cultural similarities as discussed in regards to Ruby Payne concepts.V. Parent Involvement - TEAM RCMS/PTA/PTO The agenda for the next meeting (2/13/13) is as follows:I. Parent InvolvementII. Further discussion regarding AR specific courses in Reading for next yearIII. Flipped Faculty Meetings/Flipped PDIV. Review Catch Up ProgramV Discussion of goals for next school year
3/13/13 Notes
The agenda for today's meeting is listed below. Notes for the meeting pertaining to each subject are listed below each numerated topic... I. Parent Involvement-Apatheitic student and need parents involved-look at strategies for next year-could we tie electronic device to parent involvement next year-Have students attend a "workshop" at conferences or orientation upon getting device. Powerschool, accessing teacher websites and how to use them, digital citizenship-what about Facebook? Twitter? Instagram? Tech dept concerns for security of these things.-Could we add a blog to our websites? Yes.-questions about the device that will be provided for kids next year-Do we need to look at how inner city schools are doing things and start to implement strategies used by schools serving low income families. II. Further discussion regarding AR specific courses in Reading for next year-Natalie just passed along a report of kids progress so far. Kiddos who have behaviors that prevent them from making progress are the only low point.-Others have made great progress so far. Wishing we would have started at beginning of the year.-Continue next year? Yes...-Exit procedures need to be discussed for this course. Also for RTI...-Question becomes what is the end goal of the course? Could possibly utilize the 50th percentile as the ultimate goal for all students. There is a resource chart from STAR that could be used that determines growth points. Consistent data and team recommendation would determine this. Contingency could be that lack of progress in gen ed reading could result in placing them back into the class. Should we look at placement 2nd quarter? It is difficult to place at the start of the year, even with initial assessment. The AR course was based on bottom 25% on ISTEP. Getting scores on time is difficult. III. Flipped Faculty Meetings/Flipped P-considering changes to WEdnesday mornings for more of a flipped faculty mtg approach-Informational text -Overdrive-digital book check out system-Need additional personnel to have kids read aloud. -Community volunteers to come in and read with kids. IV. Review Catch Up Program-Need to start it earlier next year. -Perhaps need to preplan before getting approval so that we are ready.-small groups worked better-behavior needs to be a considering factor V Discussion of goals for next school year-save for next meeting Next Month AgendaI. Develop Goals and Strategies for School Improvement Plan based on this year's plan.
4/24/2013
Goals and Strategies for Improvement Plan 2013-2014 -The ELA Department discussed the option of incorporating Accelerated Reader into all Zones next year. Additionally, the discussion was also including how the 1:1 initiatives plays a part in this.-The data from doing it with one class this year shows great improvements for these students.-The concern is that how to hold these students accountable for reading and taking tests.-Summer Accelerated Reader was also discussed and Tech Dir and Curr Dir was emailed to inquire about this possibility.-There is a great need to have students sign up for a library card so that they have access to more reading material through the public library including electronic books. - INCREASE ELA SCORES-Implement AR Zones in place of Study Halls-Writing Assessment tools-Professional Development on STAR as it applies to Writing Skills of Students-Is there a possibility of adding an Etymology Class next year as an elective?INCREASE MATH SCORES-Include Geometry into Module SystemSUCCESSFUL 1:1 IPAD INITIATIVE IN GRADES 6-8 POSITIVE BEHAVIOR INTERVENTION SYSTEM Next Meeting Agenda 5/22/13I. Positive Behavior InterventionsII. TrackingIII. Successful 1:1
SCHOOL MAIN GOALS
Increase ELA ISTEP Scores
Increase Math ISTEP Scores
Successful Implementation of 1:1 iPad Initiative
Formulate & Implement Anti-Bullying Coalition
ASSESSMENT/RESULTS 2012-2013
ISTEP Results 2011-2012
STAR Results 2012-2013
Data Tracking of Strategies
Bottom 25 Students
Low Growth Students
PROFESSIONAL DEVELOPMENT
Kuglin
Wabash
Wednesday Morning Sessons
Other Methods
STRATEGY GOALS
Literacy Coach
Math Modules
Writers Workshop
Parent Involvement
RCMS welcomes parent involvement and participation with continued energy of advancement to new heights in the coming years. RCMS is fortunate to have TEAM RCMS, our parent volunteer organization. Past contributions of this group have come numerous and various ways: station supervisors at our Back to School Bash, chaperones for school dances, inventory of library books, Reality Store volunteers, and Indiana's College GO! Week. RCMS seriously recognizes parent involvement and realizes that this type of involvement tends to dwindle at this level. Therefore, when needed, the practice of a survey is used periodically to elicit additional parent involvement. It remains a goal to maintain and increase parent involvement at RCMS.
Behavior Pyramid System
RCMS provides a safe and caring environment for all students and employees. In order to provide the utmost protection for our pupils and employees, all exterior doors at RCMS, except for the front door, remain locked at all times. Faculty and staff enter the building via an electronically monitored keycard. Additional entry doors have been installed so that visitors now only have access to the building after being admitted by a staff member through the remote door opener in the office. All visitors are required to sign in and pick up a visitors badge. RCMS had a new security camera system installed during the summer of 2011. It is our goal to continue to add additional cameras on the outside of our building to allow for the continued safety for RCMS students and its stakeholders. RCMS staff members have attended school safety conferences and meetings. The RCMS Crisis Plan has been updated and distributed to faculty members. A strong focus will be put on bullying prevention during the course of the 2012 – 2013 school year. The emphasis will center on supervision and communication. The goal at RCMS is to provide additional supervision whenever possible. Additionally, students will be taught and encouraged to communicate with RCMS staff to relay situations that may be occurring so as to take a proactive and conflict resolution approach to the issues. An anonymous Bullying Hotline was put into place at RCMS during the 2008 – 2009 school year. Students will be encouraged to report instances of bullying to school officials in this manner. All instances of bullying will be investigated and handled in conjunction with the RCMS handbook. An anti-bullying coalition will be developed to set goals and ways to increase communication in regards to bullying issues. This coalition will be made up of students, staff, administration and representatives of the parent organized anti-bullying group. Each student receives a copy of the RCMS Student Handbook included in their agenda on the first day of school. The handbook is also available for viewing on our school's website. Teachers review the guidelines with students at the start of the school year. RCMS operates a positive behavior intervention system that is used to manage discipline issues. RCMS strives to reward students who choose to do the right thing and make good decisions.
RTI (Response to Instruction)
Beginning with the 2011 - 2012 school year, the faculty and staff at RCMS began to implement RTI strategies. The RCMS RTI Team reviewed current RTI strategies and recommended new strategies throughout the 2011 - 2012 school year. Process and procedures were deveoped.   The year began with the identification of students who are in need of tier 2 and tier 3 strategies and planning interventions for these students. Assessment and progress monitoring will be reviewed consistently in professional learning communities.  Interventions were researched and implemented. RTI services were continued for the 2012-2013 school year.  They are currently offered in both Math and Reading.  The Literacy Coach oversees the Reading RTI and the "Fourth Math Teacher" teaches Math Modules 1/2 of the day and RTI Math the other 1/2 of the day.  STAR Assessments through Renaissance Learning are used to progress monitor student progress.  Each RTI Teacher meets with each grade level team once per week to review progress and discuss the addition and removal of students from the RTI process.
Technology is embraced at RCMS as a tool for teaching and learning and it is rapidly being integrated into the daily curriculum. We currently have two 30 station computer labs and 90 mobile laptops available for classroom use. All classrooms are currently in the process of being outfitted with interactive whiteboard systems. Each teacher has a networked teacher station in their classroom with access to electronic mail and internet. RCSC uses PowerSchool student information system to report attendance, behavior and grades. During the Spring of 2011, the RCSC School Board committed to investigating a 1 to 1 student to computer ratio in our corporation. RCMS would like to be at the forefront of this investigation and implementation. As a result, RCMS was the recipient of a generous grant that has allowed the initial implementation of a 1 to 1 iPad program with our 6th grade students. The goal is to create digital learners by creating digital educators.  As part of this implementation, students will be issued a Google Apps account sponsored by RCSC. Google Apps accounts will allow students to communicate with teachers and other students through email and utilize 21st Century tools for collaboration on word processing documents, spreadsheets, and presentations. Students will have access to Google Apps (Word, Spreadsheets, Presentation software) any place they can access the internet. Google Apps allows groups of students and teachers to collaborate on documents in real time. This means that teachers can access student files and make comments in the drafting phase rather than in the evaluation of the product. This directly meets the standards set forth by the State of Indiana and the Federal Government concerning technology usage by students. During the 2012 – 2013 school year, RCSC will implement My Big Campus, a content filtered social networking site, to provide students with the ability to turn in files electronically, engage in a protected chat environment surrounding teacher-generated topics, and take assessments online. These skills are needed by today's students as we prepare them for the 21st Century workplace and expectations of the college environment. Students will be able to turn in assignments electronically through each teacher's drop box. Also, teachers will have the ability to upload relevant practice and review materials aligned with the content from the classroom.
Bottom 25
Low Growth
Literacy Coach
Math Modules
Writers Workshop
Parent Involvement
Behavior Pyramid System
RTI (Response to Instruction)
Technology
Bottom 25
Low Growth