PILOTS, LEARNING OBJECTS & DEMOS WORKING GROUP - a.k.a. PLOD
by peggy french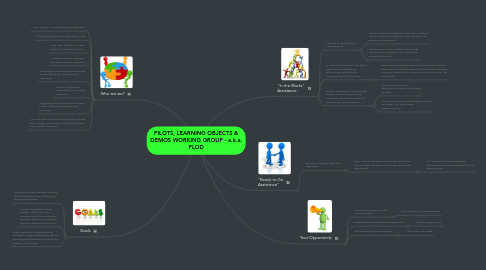 1. Who are we?
1.1. Jane Cooper, Associate Dean in Business
1.2. Kathy Hicks, Collaboratory Team Lead
1.3. Laura Hyk, Student Success Advisor for Human Services
1.4. Judi Pare, Project Manager: Blended Learning Indicators
1.5. Lisa Pegg, Curriculum Development in the Centre for Teaching and Learning
1.6. Cynthia Williamson, Collections and Access Librarian
1.7. Peggy French, Educational Designer in the Centre for Teaching and Learning
1.8. We also pull in resource people from across the college community to test drive output and provide feedback.
2. Goals
2.1. Create and share reusable content that meet previously challenging learning outcomes
2.2. Provide examples of high quality, online learning environments that introduce, explore, assess, and evaluate common learning outcomes
2.3. Solicit and mine for examples of successful, high quality examples of teaching with technology across the college community
3. "In the Works" Assistance
3.1. Module on Information Management
3.1.1. This Essential Employability Skill often lands on course outlines, but doesn't make its way into assessment activities
3.1.2. The group's online module will provide resources and activities that assess this important life skill
3.2. eL resource course for faculty to inject more educational technology and tactics to energize their f2f class time
3.2.1. Expand previously developed course that maps pre- and/or post- online activities for the 8 most common modes of delivery @ Mohawk e.g. direct lecture, lab, group work
3.3. Gather examples of success and lessons learned from faculty exploring at the intersection of technology and education
3.3.1. Connect with faculty identified through the working groups
3.3.2. Poll faculty for their reflections at end of semester e.g. one minute paper/musings
4. Your Opportunity
4.1. Volunteer as a resource to review content!
4.1.1. Stay tuned for announcements
4.2. Submit ideas for content development!
4.2.1. Email Peggy French
4.3. Add content to your course(s)!
4.3.1. Watch for LOR alerts
5. "Ready to Go Assistance"
5.1. Blended Learning Indicator Highlights
5.1.1. Here is where we take a base score and show how a couple of tweaks can bump up a score significantly
5.1.1.1. Will implement the established indicators and recommendations from other groups