FFAI Dualism
by
Thomas Breuel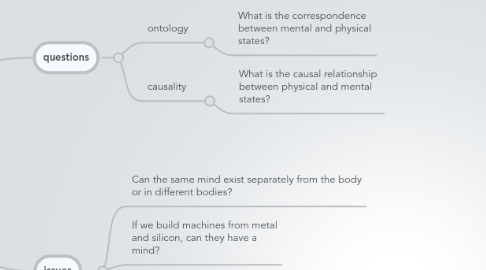 0.0
stars - reviews range from
0
to
5
FFAI Dualism
definitions?
REMEMBER: check online encyclopedia of philosophy, Wikipedia, etc.
consciousness
intentionality
self
soul
qualia
embodiment
physicalism
materialism
epistemology
ontology
zombie
causality
questions
ontology
causality
issues
Can the same mind exist separately from the body or in different bodies?
If we build machines from metal and silicon, can they have a mind?
Which of these are questions about the physical world? I.e., which of these can be answered experimentally?
arguments against dualism
experimental results
substance dualism
arguments against physicalism
Existence of qualia - even though we have complete information about the physical makeup of another being, we may still not know what it "feels like" to be that being
Once you accept predicate dualism, you really need to accept property dualism, since you can't support different predicates without also having different properties somewhere.
Because you can imagine your mind existing without your body, the mind is a different entity from your body.
Because we have a continuous personal identity over time despite our bodies changing, the mind must be separate from the body.
The mind is strictly more powerful than any physical system. (Hypercomputation.)
Some evidence suggests that the mind is unaffected by significant biochemical changes in the brain.
computer science view
functionalism
functionalist dualism
ontology
causality
observations
versus classical dualism
also: what physical experiments would you use to distinguish dualism from monism?
interaction
We can ask how mental and physical states interact; this question is related to the ontology, but not 1:1
interactionism
epiphenomenalism
parallelism
issues
history
antiquity
religiously motivated
some modern views
ontology
predicate dualism
bundle dualism
property dualism
substance dualism
basic issue
dualism OR the mind-body problem
states
How do mental states relate to physical states?
If substance or property dualism are true, then AI cannot work the way we are approaching it, since we haven't put in the right "substances".