Who would be the audience for your media product?
by Google User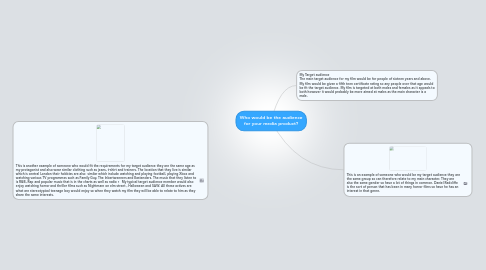 1. My Target audience The main target audience for my film would be for people of sixteen years and above. My film would be given a fifth teen certificate rating so any people over that age would be fit the target audience. My film is targeted at both males and females as it appeals to both however it would probably be more aimed at males as the main character is a male.
2. This is an example of someone who would be my target audience they are the same group so can therefore relate to my main character. They are also the same gender so have a lot of things in common. Daniel Radcliffe is the sort of person that has been in many horror films so have he has an interest in that genre.
3. This is another example of someone who would fit the requirements for my target audience they are the same age as my protagonist and also wear similar clothing such as jeans, t-shirt and trainers. The location that they live is similar which is central London their hobbies are also similar which include watching and playing football, playing Xbox and watching various TV programmes such as Family Guy, The Inbertweeners and Eastenders. The music that they listen to is R&B, Rap and popular music that is in the charts as well as radio 1 My typical target audience member would also enjoy watching horror and thriller films such as Nightmare on elm street , Halloween and SAW. All these actives are what are stereotypical teenage boy would enjoy so when they watch my film they will be able to relate to him as they share the same interests.