Multimodal-Social-Semiotic Perspective on Intercultural Communication
by ALEXANDER RAMIREZ ESPINOSA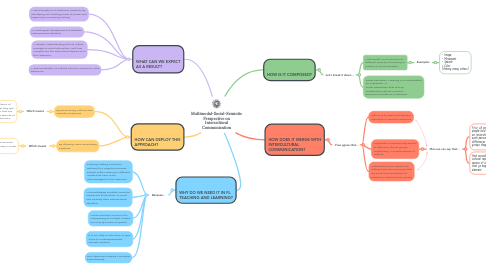 1. HOW CAN DEPLOY THIS APPROACH?
1.1. By Re-Sourcing Cultural and Semiotic Resources
1.1.1. Which means
1.1.1.1. Empowering students' forms of meaning making, so that they get back the symbolic value that has been lost to hegemonic stances of cultural and semiotic resources
1.2. By allowing Trans-Semiotizing Practices
1.2.1. Which means
1.2.1.1. Moving accross several semiotic resources simoultaneously in order to make meaning
2. WHAT CAN WE EXPECT AS A RESULT?
2.1. A deeper understanding of how culture emerges in social interaction, and how complex are the intercultural dynamics of the classroom
2.2. A decolonization of classroom practices by identifying and tackling issues of power and hegemony in meaning making
2.3. An ecological development of students' intersectional identities
2.4. A democratization of cultural semiotic resources in the classroom
3. WHY DO WE NEED IT IN FL TEACHING AND LEARNING?
3.1. Because...
3.1.1. Meaning making cannot be reduced to a cognitive process, people make meaning in different modes that have to be acknowledged in the classroom
3.1.2. Acknowledging students' semiotic repertoires allows them to enact and embody their intersectional identities
3.1.3. Communication occurs in the interwieving of multiple modes, not only by means of speech
3.1.4. It is our duty in education to give voice to underrepresented semiotic systems
3.1.5. Our classrooms display a complex superdiversity
4. HOW DOES IT MERGE WITH INTERCULTURAL COMMUNICATION?
4.1. If we agree that...
4.1.1. Culture is an open and dynamic repertoire of semiotic resources
4.1.2. Individuals are socialized into different semiotic resources that are produced, embodied nd enacted in several social groups
4.1.3. Individuals simultaneously ascribe to different cultural groups, constituting a unique mixture of cultures
4.1.3.1. Then we can say that...
4.1.3.1.1. First, all encounters between two people hold the potential of being an intercultural encounter because each person will index cultural differences bound to the social groups they ascribe to
4.1.3.1.2. And second, the indexation of their cultural repertoires will manifest by means of several semiotic resources that go beyond the linguistic element
5. HOW IS IT COMPOSED?
5.1. Let's break it down...
5.1.1. Multimodal: co-occurrence of different sources of meaning or modes of communication
5.1.1.1. Examples
5.1.1.1.1. - Image - Movement - Speech - Color (Among many others)
5.1.2. Social-Semiotics: Meaning is co-constructed by individuals in social interactions that end up constituting cultural and even hememonic patterns of behavior