www.OwnUSAhome.com
by ownusahome llc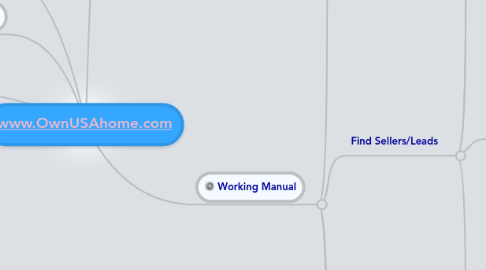 1. Introduction
1.1. About OwnUSAhome
1.1.1. Our Mission OwnUSAhome is dedicated to bringing new and creative real estate ideas to the housing market nationwide. We will continue to employ different strategies of investing in order to maximize value to our clients. Who we are We are a real estate investing company with an array of diverse operations. In 2012 OwnUSAhome initiated a program to help buyers and sellers find an easy solution to their real estate needs. Currently we invest in residential housing, provide various real estate services and work with real estate agents, mortgage brokers and investors nationwide who understand the current market well enough to meet the needs of both buyers and sellers. Honesty, integrity and strong ethics are our primary objectives in doing business with our clients. OwnUSAhome prides itself on superior customer service. People choose us because we care and place them first.
1.2. How We Work
1.2.1. Virtually every seller we talk to would prefer to sell their home than rent it. We understand! The reality of today's market is that a quick sale may not be possible. Still, Sellers have other options beyond just renting their home to someone who isn't committed to owning a home. We show Sellers how to get full price for their home, not pay any Realtor commissions, get above market rents, not worry about maintenance and repairs, and get on-time rent every month? We purchase homes via Lease Purchase. Purchasing homes on terms (Lease Purchase) also gives us the ability to help people who desperately want to own a home, but do not qualify for bank financing. Because we invest in so many homes, we have an enormous database of clients who are looking to buy on a Lease Purchase. The problem is that many sellers are unaware of what Lease Purchasing is, and are missing out on the opportunity and advantages of selling their home this way. You will be helping sellers by providing an alternative solution to selling their home. The best part is that if you follow our system and spend 60 minutes, or less of your time a day, you should be able to have 3-4 motivated sellers per week who are willing to consider selling their home on a Lease Purchase. As soon as we close on those deals, we pay you! (see compensation structure below).
2. Work With OwnUSAhome
2.1. Your Responsibilities
2.1.1. You represent a Real Estate investment company and your job is to find out if Sellers would consider selling their home via Lease Purchase (simple script is provided in the working manual). Once you have a seller who is interested in selling their home via Lease Purchase, we will do everything else needed to close the deal. We handle all of the negotiations with the seller We handle all of the contracts, attorney fees etc. with the Seller We answer all questions related to the seller and their property. We will be providing you with leads of motivated sellers who either can't sell their home the traditional way, or sellers that have chosen to rent their home to cover their expenses. Leads will be updated daily through your personal google spread sheet. To work with google documents/spread sheets you will need to create a free google account. For details about setting up a google account/email, visit www.google.com. (One of our staff members can help assist you on setting this up if you're having trouble) Google documents will help you track your daily leads. You will need to document the sellers property address, contact number of the seller, any email address they provide you with, and notes including a brief overview of the sellers current situation and any follow-up information. On average, it should take you up to 5 minutes per call, which means that you would only have to spend about 75 minutes of your day making calls to sellers. Bottom Line Is! We have created a very simple system for you to follow, which gives you the opportunity to work as much, or as little as you want and make as much money as you want!
2.2. Your Compensation
2.2.1. This is how our pay structure works. Once we close the deal with the seller you contacted, we will pay you 15% of our net profits. Depending on the sales price of the home, as well as other factors, our net profits are usually from $3,000 - $20,000. For example: If our net profits equal $6,000 dollars, then your finder's fee would be $900 dollars. ($6,000*.15=$900). As your first starting out, you should have at least one interested seller within your first full week of work. This calculation is based off of our recommended 60/minutes per day strategy. The more calls you make, the more comfortable you will feel. Eventually, it will be a piece of cake making these calls!
3. Working Manual
3.1. Expactations
3.1.1. Leads should be generated on Thursday and uploaded to google spreadsheets by Friday 8am. Please don't spend more then 10 hours. Based on our experiance, for every one working hour, you should generate about 15-20 leads. With that mentioned, working 6 hours you should generate about 90-120 Leads. Once Leads are generated please uplaod them to our team members spreadsheets. Thank You
3.2. Find Sellers/Leads
3.2.1. What to look for
3.2.1.1. For Rent ads
3.2.1.1.1. 3+bedrooms/Rent Over $800 a month/Not Older Then 1940's
3.2.1.1.2. Try to avoid ads by Realtors, Property Managers, Investors, Brokers, Not For Rent To Own, Not For Lease Purchase or Lease Option
3.2.1.2. FSBO ads
3.2.1.2.1. 3+bedrooms
3.2.1.2.2. Minimum price $70,000
3.2.1.2.3. Copy & reuse the link
3.2.2. Negative Words
3.2.3. Counties In Ohio
3.2.3.1. www.craigslist.com
3.2.3.1.1. Rentals
3.2.3.2. http://www.forsalebyowner.com/
3.2.3.2.1. For Sale By Owner
3.2.3.3. www.FSBO.com
3.2.3.4. http://www.news-herald.com/
3.2.3.4.1. Once you get to the main page of the News Herald, click on "Real Estate". Then you will have an option to choose Sale or Rental. Make sure to choose "Single Family" under "Type" and 3+ for "Bedrooms". Listed below will be Ohio cities and Ohio counties. You can set the search from there.
3.2.3.5. http://www.cleveland.com/plaindealer/
3.2.3.5.1. Once they get to the main page of The Plain Dealer, click on either "Real Estate" or "Rentals". For "Rentals" you need to click on "Homes & Apts Units", set the "Price Range", as well as the number of bedrooms and bathrooms. It will pull up everything available in Cleveland.
3.2.3.6. www.Zillow.com
3.2.3.7. www.backpage.com
3.2.3.8. www.owners.com
3.2.3.9. www.trulia.com
3.2.3.10. www.newslinks.org
3.2.3.11. www.americanclassifieds.com
3.2.3.12. www.thegreensheet.com
3.2.4. Email To Rental Ads
3.2.4.1. Email Sent To Sellers On Sites Listed Below
3.2.4.1.1. Hi, Your home is beautiful! I was looking at homes in your area and was wondering if you are interested in selling your home? If so, what is the best number to get a hold of you? Thank You
3.2.4.2. www.craigslist.com
3.2.4.2.1. Please refer to counties listed above!
3.2.4.3. www.FSBO.com
3.2.4.4. www.Zillow.com
3.3. What do you say to sellers over the phone, voice mails, and emails.
3.3.1. Emails
3.3.1.1. Email to respond to Ads
3.3.1.1.1. Please Email Owner from the link Expressing Your Interest. Get Them To Provide You With Their Number. Copy the email address provided...Hello, my name is Kelly and I'm interested in getting more information on your property. Is there a phone number I can reach you at?
3.3.1.2. Email to Sellers Who Want More Information on Our Company and/or the Lease Purchasing Process
3.3.1.2.1. Dear (Seller's Name), It was a pleasure speaking with you over the phone. Based off of the pictures I saw online and the description you provided me with, I really do believe my investors would want to purchase your home. Here is the direct link to my investors website. http://ownusahome.com/ The website explains a little bit about the company, what they do, and how they are able to buy your home for your full asking price in such a depressed housing market. Please email, or call us directly at 440-941-4558. Sincerely, (Your Name)
3.3.2. Phone Scripts
3.3.2.1. Only available to OwnUSAhome team!
3.3.3. Voice Mails
3.3.3.1. Only available to OwnUSAhome team!
3.4. Google Tutorials
3.4.1. http://ownusahome.com/google-tutorials/
3.5. Tutorial Videos
3.5.1. Coming Soon!
4. Questions
4.1. If you have any questions, email us at [email protected], or call us directly at 440-941-4558. We look forward to hearing from you! Kelly & Artem
5. Get Started
5.1. Local Real Estate Investment Company looking for a part time assistant to help with pre-screening company leads.This Position is very limited! We are only looking for a few people to join our team. All you need is a computer with internet connection and a telephone. No real estate, or sales experience necessary.You must be motivated, have great communication skills and a positive attitude. Our Real Estate Investing team created a very simple system for you to follow. So simple, it will only take you a few hours to learn. This is a fun industry to work in, but most importantly, it's very profitable! Once you decide to work with us, you will receive full access to this MindMap which is going to give you everything you need to start right away! Also, one of our team members will help assist you along the way. They will answer any questions you may have and will do everything possible to ensure your success!! Please take a moment and click on the "Introduction" tab. There, you will learn a little bit more about who we are and what we do. Thank you for your time, we look forward to working with you! Video Greeting: http://ownusahome.com/job-position/