It is not too harsh to impose a fine for eating a sweet in MRT.
by
M Iraclejovi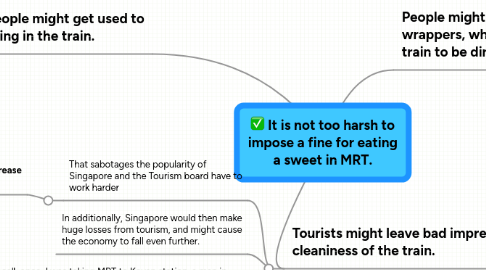 0.0
stars -
0
reviews range from
0
to
5
It is not too harsh to impose a fine for eating a sweet in MRT.
People might litter the sweet wrappers, which causes the train to be dirty.
Because, MRT trains doesn't have litter bins at all, therefore, people might be lazy to hold on to the sweet wrapper, therefore, they would litter on the floor.
MRT do not have any security against littering, therefore people litter the wrappers, and causes the floor to be dirty, which will disrupt the people taking their ride in the train.
For instance, i was once having a ride in the MRT, a lady inserted a sweet wrapper on the gap between the seats and the hand railing.
Tourists might leave bad impression of the cleaniness of the train.
That sabotages the popularity of Singapore and the Tourism board have to work harder
In additionally, Singapore would then make huge losses from tourism, and might cause the economy to fall even further.
To recall, once, I was taking MRT to Kovan station, a man in black, littered a empty box of sweets and left the train, as the door opens, a american guy went inside the train, and accidentally stepped on the empty box of sweets, and made a grumpy voice.
People might get used to littering in the train.
The train will become very dirty.