Presentation Zen Powerful Presentations
by
Michael Jensen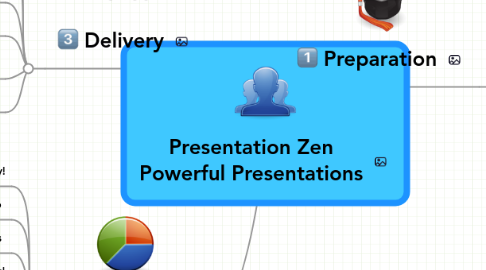 5.0
stars -
4
reviews range from
0
to
5
Presentation Zen Powerful Presentations
Preparation
Concept
Design, Not decoration, Important even for business presentations
Story, Storytelling = Memorable + Engaging
Symphony, Synthesize
Empathy, Put in audience position, Is audience "getting it"?
Play, Humour = Memorable + Engaging
Meaning, Make just a small difference
Material
Slides, Simple! Header and picture
Handouts, Detailed slides
Notes, For you to see only
Be creative
Everyone are creative!
Be inspired, be a pirate
Be enthusiastic and passionate!
Plan!
Get away from the computer
Use whiteboards, notepads, stickers
Key questions
Whats my point?
Why does it matter?
Detailed questiens, How much time do I have?, Who is the audience? (background), What do they expect?, What do I want them to do?, Why am I speaking?, What is my one key point?
Memorable!
Simple
Unexpected
Concrete
Credible
Emotional, Images, Good story telling
Stories
Design
Simplicity!
Think Subtract, not Add
Signal vs Noise Ratio
Ratio of relevant versus irrelevant
Avoid bullets - use graphics
Images!
Images makes memorable
Use iStockPhotos
Other stock photo sites, dreamstime.com, fotolia.com, japanesestreets.com, shutterstock.com, shuttermap.com
Free images, morguefile.com, flickr.com/creativecommons, imageafter.com, sxc.hu, everystockphoto.com
Grids - Rule of Thirds
Repetition - Consistency
And please, no 3D!
Delivery
Prepare!
Be present!
Let go, there's no success, no failure
Do not worry about mistakes
Use conversational style
Leave them hungry for more
Less is more
Do not overload their minds
Amazingly inspirational
View Hans Rosling
Show passion and enthusiasm
And be fun, relaxed & confident