Japanese Mothers and Obentos: The Lunch Box as Ideological State Apparatus
by Kelly Misner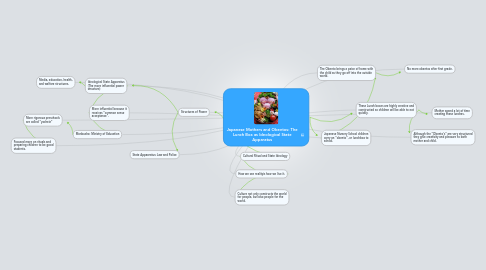 1. Japenese Nursery School children carry an "obento", or lunchbox to school.
2. These Lunch boxes are highly creative and constructed so children will be able to eat quickly.
3. Mother spend a lot of time creating these lunches.
4. Although the "Obento's" are very structured they give creativity and pleasure to both mother and child.
5. Cultural Ritual and State Ideology
6. How we see realityis how we live it.
7. Culture not only constructs the world for people, but also people for the world.
8. State Appaaratus: Law and Police
9. Ideological State Apparatus (The more influential power structure)
10. Structures of Power
11. Media, education, health, and welfare structures.
12. More influential because it receives "common sense acceptance".
13. Monbusho: Ministry of Education
14. More rigoroua preschools are called "yochein"
15. Focused more on rituals and preparing children to be good students.
16. The Obento brings a peice of home with the child as they go off into the outside world.
17. No more obentos after first grade.