De verlichting 1700-1800
by Ryan Verheijden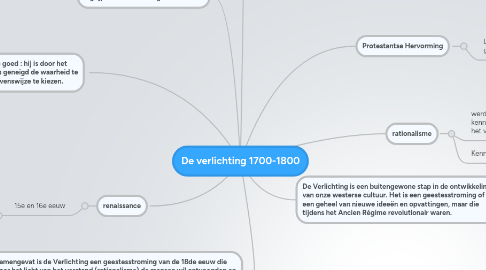 1. renaissance
1.1. 15e en 16e eeuw
1.1.1. Vraagtekens over het mens en wereldbeeld
2. De Verlichting is een buitengewone stap in de ontwikkeling van onze westerse cultuur. Het is een geestesstroming of een geheel van nieuwe ideeën en opvattingen, maar die tijdens het Ancien Régime revolutionair waren.
3. Protestantse Hervorming
3.1. Luther en Calvijn tasten het gezag van de kerk
3.1.1. Protestanten
3.1.2. Christenen
4. Ingrijpende verandering(Humanisme)
5. De oude opvattingen worden opnieuw bestudeerd
6. rationalisme
6.1. werd een algemene geesteshouding die elke kennis en elk handelen grondvest op de rede of het verstand (= ratio)
6.2. Kennis is macht
7. Samengevat is de Verlichting een geestesstroming van de 18de eeuw die door het licht van het verstand (rationalisme) de mensen wil ontvoogden en zelfstandig maken (vrijheid, vrijdenken, liberalisme), zodat ze, vertrouwd op hun natuurlijke mogelijkheden, vooruitgang maken in menselijkheid en beschaving (humanisme, natuurrechten van de mens).
8. de mens is van nature goed : hij is door het verstand bekwaam en geneigd de waarheid te zoeken en de juiste levenswijze te kiezen.