U.S. Investment Crowdfunding Industry | thecrowdcafe.com @jsandlund
by
Jonny Sandlund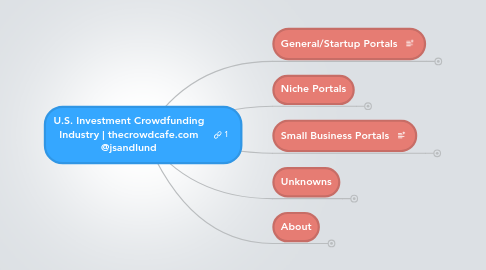 0.0
stars -
0
reviews range from
0
to
5
Not black and white, but largely looking to facilitate investments in high-growth/high-risk startups. Investor motivations: high upside, sexiness, fun, etc. 
Existing Startup Networks
99funding
crowdfunding social network
Offers a plethora of business services/products in addition to a crowdfunding platform
Strategic partnership with GATE Impact worth noting; looks like they're positioning to provide a robust secondary market for crowdfunded securities. For more: http://www.thecrowdcafe.com/crowdfunder-partners-with-gate-impact/
CrowdIt is launching an entirely new approach to crowdfunding with a clear mission – to extend beyond just funding by incorporating much-needed expert advice, peer review, collaboration and business networking into the core functionality of the site. CrowdIt differs from other sites, because it focuses on tapping the collective power of the crowd to create the support system people need to turn their ideas into a reality.
Raised $1.15m Series A in early August; investing in preemptive education and awareness through a nationwide crowdfunding tour
Splash page - BD affiliation
Crowdfunding today through SCOR offerings. More info: http://bit.ly/UuyzJ0
Interesting player; will offer crowdfunding for free to companies and investors; monetization will be from cross-selling services. More info: http://bit.ly/QUdrv7
Connects investors to companies via webinars… interesting. refer to article: http://www.crowdsourcing.org/editorial/adding-webinar-presentations-to-equity-crowdfunding-projects/23406
Great early branding/positioning; strong partnerships within the industry
indicated in crowdsourcing.org interview that they're looking at european expansion; also very likely to enter the U.S. market
Creative
Real Estate
These portals are carving out niches or focusing on investor affinities. Niche:Investors will be attracted to niche portals as many of them will use domain-experience/expertise to filter dealflow (i.e. CircleUp) Affinity: Identifying with affinities that will motivate investors (i.e. veterans, hispanic, alumni, sports)
Crowdfunding for traditional small businesses (this could be considered a niche/affinity, but I decided to break it out as its a major focus of many portals). Debt will likely serve this demographic best, particularly existing SMBs Investor motivations: social impact, community support, main st. vs. wall street dynamic
MosaicFund.org
Stanford, MIT grads, trying to get into Y Combinator; didn't get in. still working on the platform.
Periphery Players
Could be partners, or competitors?
Questions
Secondary Markets
US P2P Players
About
Includes platforms that currently, or may in the future, facilitate security crowdfunding (equity, debt, royalty models)
Segmented by target addressable market (best judgement used)
Connect with me @jsandlund