Content Marketing Idea Starters
by Melanie Draheim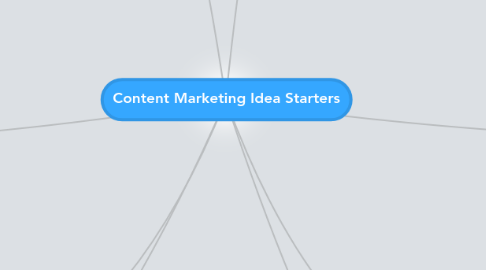 1. Health Care Reform
1.1. General
1.1.1. Why should I have health insurance? (Average costs of common services/emergencies. The average broken arm costs $___.)
1.1.2. Where does my health care dollar go? (Infographic? Example: https://www.healthalliance.org/content/Health_Care_Reform/Dollar_Breakdown
1.1.3. Why are costs rising? How can I better manage costs (emp. and indiv.)? 5 ways to lower your health care costs
1.1.4. What does the future of health care look like? What will wellness programs look like in 2014?
1.1.5. What is a PCP and why is one valuable?
1.1.6. Can I use an agent?
1.2. Employers
1.2.1. Future health care costs you should be planning for
1.2.2. Top things to know if you're self-employed/a small business/a large business
1.2.3. What's considered a small vs. large business (use visuals)?
1.2.4. Do I have to offer insurance to my employees? What happens if I don't?
1.3. Plans and Marketplace
1.3.1. Explaining the medals system of rating plans
1.3.2. What is the marketplace? What is it in WI?
1.3.3. What are essential benefits? What's included in the model plan?
1.3.4. Out-of-network vs. in-network: what's the difference?
1.4. Individuals
1.4.1. Do I have to buy insurance for myself? What happens if I don't?
1.4.2. Top 10 things to know if you don't have coverage
1.4.3. What happens if I can't afford coverage? Who qualifies for help?
1.4.4. Can my son/daughter stay on my plan through age 26?
1.4.5. For those with preexisting conditions
1.4.5.1. Top things to know (guaranteed coverage)
1.4.5.2. What's a preexisting condition and what's not
1.4.5.3. What happens if I'm in the high-risk pool?
1.5. Medicare/Medicaid
1.5.1. What's Medicaid and who qualifies for it?
1.5.2. I have Medicare, do I need to do anything? (no, not part of the marketplace)
1.6. Misc.
1.6.1. A timeline of all upcoming changes with visuals. A webinar of what upcoming changes mean. Translate a change into an infographic (like examples Sam found).
2. Health and Wellness
2.1. Marathons
2.2. Weigh loss (diet/calories)
2.3. Exercise training (a specific type of training or class)
2.4. Stress management
2.5. Top foods (health and beauty, for example: vitamins for better skin)
2.6. Recipes (kid-friendly, health quick)
2.7. Stopping smoking
2.8. Promoting local health-related businesses (fitness friend of the week)
2.9. Restaurants (where to get a healthy lunch)
2.10. Map of local bike of hiking trails
2.11. List of parks
2.12. Parks and recreation activities (bike safety/pool safety)
2.13. Summer activities (pools/beaches)
2.14. Keeping kids active
2.15. Depression (teens and bullying)
2.16. Health dangers (soda, sugar, fat, tanning)
2.17. Teens and texting while driving (car accidents)
2.18. Sports injuries
2.19. Drug/alcohol abuse (WI specific stats)
3. Doctors and Hospitals
3.1. Choosing a PCP and why it's important
3.2. Differences between a PCP and specialist
3.3. Trending topics like immunizations, preventive visits, annual vist, sports physicals
3.4. Ask a Doctor
3.5. Special/new advances and technologies
3.6. New treatment options - homeopatheic doctor/treatment options
3.7. Tools members/patients can use to manage their own tools. Iphone apps.
3.8. New doctors, Spotlight providers doing something different than traditional (for example: robot surgery)
3.9. Online scheduling for appointments. Wait times.
3.10. New facilities/virtual tours
3.11. Provider/facility milestones
3.12. What to expect at a hospital for a stay/clinic visit
3.13. Tesimonial of a patient (care manager helped)
3.14. Different options for childbirth
4. Other Ideas
4.1. Use local celebrities
4.2. Q&A (submit a question and we'll post the answer/common questions for HCCs or customer service reps))
4.3. Guest bloggers (for example, an employer guest blogger, or follow someone who is trying a diet to meet a weight loss goal, someone taking an exercise class, training for a marathon or taking a condition management workshop)
4.4. Submit event to a calendar
4.5. Photo contest (guess where the photo was taken
4.6. Ask the Expert
4.7. Use content/questions brought up through CoCreate (explain why we could or couldn't take their suggestions)
4.8. Top questions to consider when choosing a health plan
4.9. Top 10 reasons local is better (highlight competitive advantages of Network Health)
4.10. Post a simplified version of the provider scorecard online for members to reference, or have a forum where people can share their experiences with our providers
4.11. If a HCR or other topic becomes part of the mainstream news cycle, explain to members what it means for them
5. Trends/In the News
5.1. Reactive to the latest news
5.2. Break down complicated/larger stories into "what it means for you"
5.3. How soon you could expect for something to impact you
5.4. How national topic affects us locally
5.5. Exercise Trends
5.5.1. Themed runs
5.5.2. CrossFit classes
5.6. Technology
5.6.1. Healthy apps - self-monitoring apps like Nike Fuel and Larklife
5.6.2. Classes on your mobile device (yoga/dance/pilatees)
5.6.3. Celebrity fitness
5.6.4. Innovative equipment/processes
5.7. Diet/Nutrition
5.7.1. Glueten free diet. Medit. diet. Super foods - high antioxidants.
5.7.2. Weight loss supplements/herbs
6. Distribution Channels
6.1. Blog, member newsletters
6.2. Social media/Facebook/Twitter/LinkedIn/YouTube
6.3. Agent communications/agent flashes
6.4. The Pulse articles
6.5. News releases
6.6. Websites (HW)
6.7. Videos
6.8. Expos/festivals/events
6.9. Highway sign
6.10. Employer health fairs
6.11. Employee forums/internal communications
6.12. Intranet
6.13. Email reminders
6.14. Mailings?
6.14.1. Inserts/postcards
6.15. Links to articles posted on Issuu
7. Customer Service
7.1. A day in the life of a CS rep.
7.2. Basic health ins. info.
7.3. FAQs: common questions - What to have when you call/when to call
7.4. Checklists for preparing for a procedure or inpatient stay
7.5. Links/resources to credible sources (local)
7.6. Interactive quizzes to test your knowledge
7.7. Chat options to chat with a live person
7.8. Explaining rules - Why we do what we do (what two envelopes?
7.9. How to read your EOB.
7.10. Why can't see my child's health info.?
8. What's content marketing and why is it important?
8.1. The bottom line is that content marketing isn't about self-promotion; it's about engaging consumers through relevant information, resources and tools, discoverable at a time and place when they are most open to receiving messages. It's about building your brand and strengthening relationships at every point through the consumer decision-process—encouraging your audience to act through strong calls to action with content that positions you as the preferred choice.
9. Health Conditions
9.1. Diabetes: how to control it. Prediabetes: what you can do to turn it around
9.2. Living with cancer/breast cancer/latest treatment options
9.3. Pregnancy - Tips. What's happening during each week.
9.4. Heart healthy - how to manage heart problems and condtions
9.5. Asthma/allergies/other respiratory disorders
9.6. Brain health: what's behind frequent headaches/can alzheimers be prevented?
9.7. Digestive disorders - How to cope. Chrons disesase
9.8. Mental disorders - How to cope with anxiety/dealing with family member with a mental illness
9.9. Help for those with friends/family with a condition
9.10. Helping someone spot their condition - Warning signs not to ignore.
9.11. Dermatology - achne/moles cancer?
9.12. Chronic pain management - Enouragement/mental aspect
9.13. Dealing with PMS/menopause
9.14. Alcoholism/substance abuse - Performance enhancing drugs
9.15. Eye health and eye conditions - glaucoma
9.16. Hearing issues/hearing aids