PROPERTIES OF TIMBER, STEEL & CONCRETE
by Hackymiey Hyebyetwo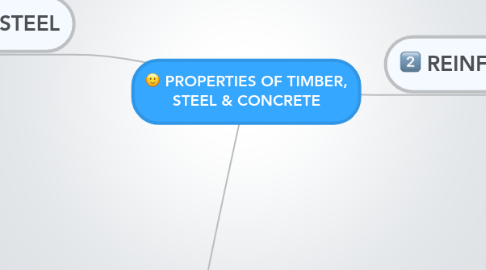 1. TIMBER
1.1. Can be stress graded by
1.1.1. (1) Visual Inspection
1.1.1.1. -Carried out by well trained inspector or observer. According to the code of practice, the inspector considers the general quality of timber, the number and size of knots.
1.1.2. (2) Machine Strength Grading
1.2. Has been available as a construction material for most societies
2. STEEL
2.1. Characteristic
2.1.1. -Strongest and stiffest -Can be used to create large open space.
2.1.2. -Has a uniformly high strength in tension and compression and is also good in shear
2.1.3. -Made in factory
2.1.4. -Steel member are used to frame building
2.2. Durability
2.2.1. -Designed to be long lasting and required little maintenance.
2.2.2. -Influenced by exposure conditions, steel quality and fire protection
2.2.3. -Exposed to a wide range of conditions, such as atmosphere, soil, seawater, or stored in chemical
2.2.4. -Metal coating, such as galvanizing or zinc spraying, can provide very good protection giving a rust and surface degradation free life about 20 years
3. REINFORCE CONCRETE
3.1. Embedded in such a manner that the two materials act together in resisting forces
3.2. Plain concrete does not easily withstand tensile and shear stresses caused by
3.2.1. Wind
3.2.2. Earthquakes
3.2.3. Vibrations
3.3. The tensile strength of steel and the compressive strength of concrete work together to allow the member to sustain these stresses over considerable spans