Flow of Events
by Pam Lloyd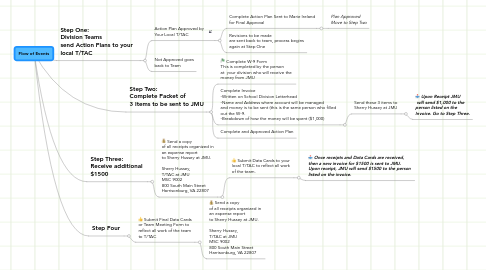 1. Step Four
1.1. Submit Final Data Cards or Team Meeting Form to reflect all work of the team to T/TAC
1.1.1. Send a copy of all receipts organized in an expense report to Sherry Hussey at JMU. Sherry Hussey, T/TAC at JMU MSC 9002 800 South Main Street Harrisonburg, VA 22807
2. Step Three: Receive additional $1500
2.1. Send a copy of all receipts organized in an expense report to Sherry Hussey at JMU. Sherry Hussey, T/TAC at JMU MSC 9002 800 South Main Street Harrisonburg, VA 22807
2.1.1. Submit Data Cards to your local T/TAC to reflect all work of the team.
2.1.1.1. Once receipts and Data Cards are received, then a new invoice for $1500 is sent to JMU. Upon receipt, JMU will send $1500 to the person listed on the invoice.
3. Step One: Division Teams send Action Plans to your local T/TAC
3.1. Action Plan Approved by Your Local T/TAC
3.1.1. Complete Action Plan Sent to Marie Ireland for Final Approval
3.1.1.1. Plan Approved Move to Step Two
3.1.2. Revisions to be made are sent back to team, process begins again at Step One
3.2. Not Approved goes back to Team
4. Step Two: Complete Packet of 3 Items to be sent to JMU
4.1. Complete W-9 Form This is completed by the person at your division who will receive the money from JMU
4.2. Complete Invoice -Written on School Division Letterhead -Name and Address where account will be managed and money is to be sent (this is the same person who filled out the W-9. -Breakdown of how the money will be spent ($1,000)
4.2.1. Send these 3 items to Sherry Hussey at JMU
4.2.1.1. Upon Receipt JMU will send $1,000 to the person listed on the Invoice. Go to Step Three.
4.3. Complete and Approved Action Plan