European Nations Settle North America
by
Kelly A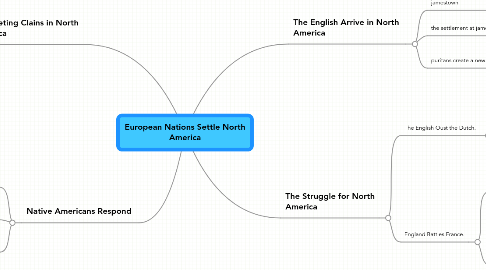 0.0
stars - reviews range from
0
to
5
European Nations Settle North America
The English Arrive in North America
the colonist claimed the lands as theirs they named the land after their king jamestown
the settlement at jamestown
puritans create a new england
Competing Clains in North America
Magellan's voyage showed that ships could in fact reach Asia.
Early French explorers sailed west with the dreams of reching the East Indies.
The New France was discovered.
Unlike the English, the French were less interested in occupying territories than they were making money off the land.
The Struggle for North America
The English Oust the Dutch.
England Battles France.
Native Americans Respond
a strained relationship
settlers and native americans battle
natives fall to disease