CityInstant.com
by
Michael Wuori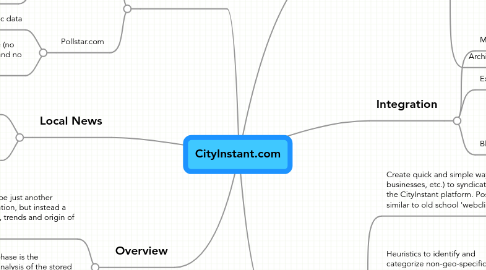 0.0
stars - reviews range from
0
to
5
CityInstant.com
Local Tweets
Data
Display
Archive
Local Events
Upcoming.org
Pollstar.com
Local News
Only articles applying to specific locations and or areas.
Aggregation (Yahoo Pipe perhaps) of local news feeds parsed as one.
Overview
Purpose of site is not to be just another directory of local information, but instead a visualization of the types, trends and origin of local data.
Site is two-phased, first phase is the live-interface, second is analysis of the stored information.
New node
Challenges
Create quick and simple way for local websites (local businesses, etc.) to syndicate their time-sensitive content to the CityInstant platform. Possible via drag-n-drop interface similar to old school 'webclips'-style apps.
Heuristics to identify and categorize non-geo-specific information.
Avoiding duplicate information.
Providing options for interaction without requiring it nor making them obstrusive.
Maintaining close-to-real-time updates without killing the server.
Integration
Media
Existing Location-Based Services
Blogs