How Your eP Friends Can Help
by peggy french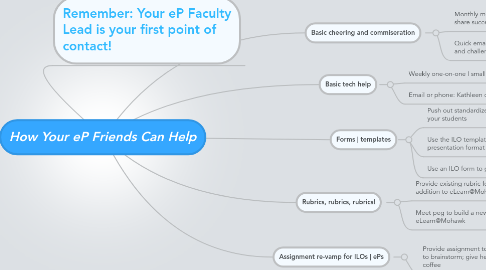 1. Basic cheering and commiseration
1.1. Monthly meet for coffee | tea to share successes and challenges
1.2. Quick emails to share successes and challenges
2. Basic tech help
2.1. Weekly one-on-one | small group check-ins
2.2. Email or phone: Kathleen or Jeff
3. Assignment re-vamp for ILOs | ePs
3.1. Provide assignment to peg; meet over coffee to brainstorm; give her a few days; meet for coffee
4. Rubrics, rubrics, rubrics!
4.1. Provide existing rubric for addition to [email protected]
4.2. Meet peg to build a new rubric in [email protected]
5. Forms | templates
5.1. Push out standardized items to your students
5.2. Use the ILO template to set presentation format
5.3. Use an ILO form to guide reflection writing
6. Remember: Your eP Faculty Lead is your first point of contact!