VLE requirements
by
Stephen Catton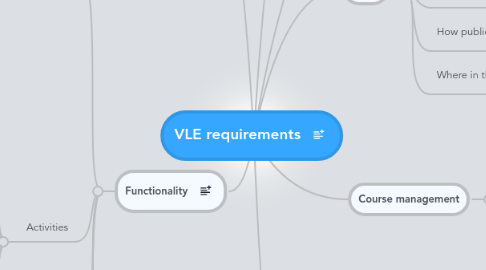 0.0
stars - reviews range from
0
to
5
VLE requirements
regardless of whether a VLE is free or payed for the same issuers need to be addressed to a more or lessor degree. This will depend on numbers and budget and requirements.
Hosting
Regarding Cost and more importantly the skills you have in your oganisation
Managed
Self Managed
Cloud
on-site
Functionality
Does it have enough built in tools to engage learners
Ease of use
Activities
User tracking
Reward system
Grading and feedback
Group learing
Can learners work in groups?
People management
Access
Roles/permissions
What can different types of users do
Migration
how to manage the movement of people in multi year courses and at the end of the course
Group management
Managing users in groups
Course management
resourse/activity availability
Making Activities and resourses available in a timely manor
Enrolling people
Do learners enrol them selves?
Capturing stats
to support admin tasks such as engagement and grades
Tracking progress
for both learners and tutors
Communication with stakeholders
getting messages to learners and support staff associated with the course/module
'End of course' management
remove learners and their work at the end of the course/module
Creating and deleting courses
Course structure
How to keep the course easy to navigate
Course & Activity navigation
how easy is it for the learner to find their way to the relevant activity
Linking to other courses
how to manage users belonging to multiple areas and or courses and not have access to areas / courses that they do not belong to
Integration
Management information
import and export data from management systems such as SIMs, Agresso or just with a spreadsheet
Other external services
Legal
Data protection
Do I comply with the DP legislation
Archive
can i archive it for the required amount of time
Who owns what
Who owns the data
How public is it
Can i control who see it
Where in the world
Where is the data stored
System
Course backup
backup current course with users, their work and the resources
System backup
disaster recovery
Security
prevent unwanted intrusion
Feature development
the product will offer new feature and functions in the future
Product Longevity
How long is it likely that the product will be supported for a long time
Support
can you get support
Size of eco-system
how many people using it
Change appearance
Change apearence