Information Systems
by
Chris Marucci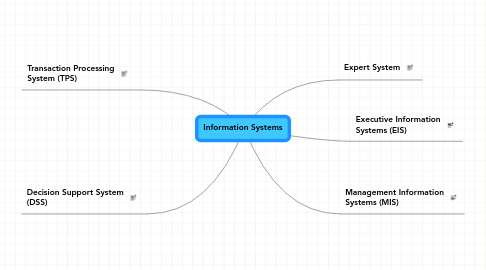 0.0
stars - reviews range from
0
to
5
Information Systems
Expert System
This system is sometimes referd to as a knowledged-based system. This is a computer system designed to analyze data and produce a recommendation, diagnosis, or decision based on a set of facts and rules.
Transaction Processing System (TPS)
This system provides a way to collect, process, store, display, modify, or cancel transactions. Most transaction processing systems allow many transactions to be entered simultanious. The data collected by a TPS is typically stored in a database, and can be used to produce a regularly schedual set of reports, such as monthly bills, weekly paychecks, annual inventory summaries, daily manufacturing schedules, or periodic check registers.
Management Information Systems (MIS)
A management information system is characterized by its ability to produce routine and on demand reports, provide useful information for managerial activites, increase managerial effciency, and to provide information used for structured, routine decisions.
Decision Support System (DSS)
A decision support system is characterized by its ability to support, rather than replace, managerial judgement, create decision models, improve quality of decisions, help solve semi-structured problems, and incorporate external data.
Executive Information Systems (EIS)
This information system is designed to provide senior managers with information relevant to strategic management activities such as setting policies, planning and preparing budgets based in information from internal and external databases.