Post Secondary Options
by Angela Ehsa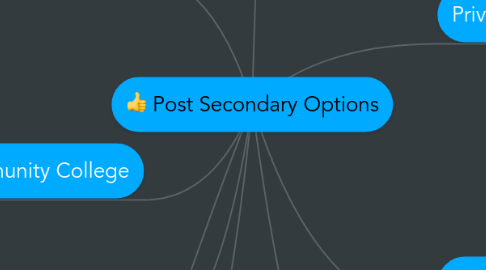 1. 4 Year College
1.1. Offer Bachelors, doctorate, and masters degree
1.2. Can be specialized or offer a broad curriculum
2. Private
2.1. Offer wide range of degrees and certificates up to a doctoral level
2.2. May profit or nonprofit institution
2.3. Give weight to personal characteristics based on test scores and considering GPA
2.4. Special interests schools based on single sex, religion, etc.
2.5. Rely on tuitions, fees, endowments, and other private funds
3. Public
3.1. State supported
3.2. Most Refunds are from the state
3.3. Less Expensive
3.4. Includes community colleges and 4 year colleges
3.5. Tend to have larger enrollment then private colleges
3.6. Less financial aid
3.7. No religious affiliation
4. 2 Year College
4.1. Offer online and campus degrees
4.2. Its a community college
4.3. Quick and affordable education with flexible education
5. Community College
5.1. Public 2 year college
5.2. Grants Associates degree in 2 year liberal arts programs
5.3. Certificates in particular technical subjects(career related)
5.4. Cheaper than a 4 year college
5.5. Open admission
6. Vocational Training Schools
6.1. Prepare students for a specific career
6.2. Can last weeks, months, but usually less than 2 years
6.3. Usually get a license, associates degree, or a certificate
7. University
7.1. Grants Bachelors and Masters Degree
7.2. Sometimes include liberal art college, some Professional schools or colleges, and graduate programs such as law school or medical school.
7.3. Offer 2 year and 4 year degrees as well as well as graduate degrees beyond 4 years.
7.4. Offer huge course selections and had extensive resources
8. Junior College
8.1. Similar to community college except a Junior college is usually a private school
8.2. Offer 2 year degrees for online and campus courses
8.3. Also known as a technical institute
8.4. Provides post-secondary education and lower level tertiary education
8.5. Grants certificates, diplomas, and associates degrees.
9. Distance Education
9.1. Best for students who don't like being in classrooms
9.2. Online courses