Informational Management Areas of Work
by
Evgeniya Berestneva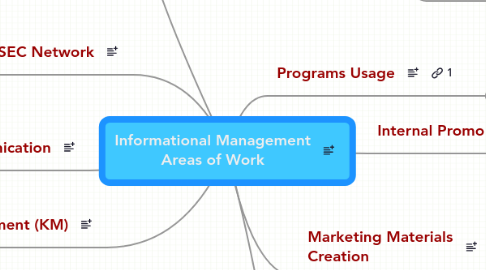 0.0
stars - reviews range from
0
to
5
Informational Management Areas of Work
This map displays areas of work in Information Management in AIESEC on LC level.
Information Transparency
When there is information transparency in organization: People know current state -> People make effective decisions People know about opportunities -> People develop more People share Good Case Practices (GCP) of doing something What to do about information transparency working as OC IM: Provide info for Weekly Newsletter Provide info for National Newsletter Promote projects' events, activities on LC Voice Deliver info about campaigns, events, opportunities for OC Team [together with OCP]  
Content: news in projects current campaigns x numbers current state events opportunities recognition eb life Responsible: Final - EB Info about projects provided by OCP or OC Com/IM Dates: Sunday - DDL for info from projects to send Monday - Released Channel: LC Voice
Info for LC-Meetings
Content: news from LCs of AIESEC in Russia Requirements: A4 - max Responsible: Final - NST Com Info from LCs is provided by LCVP Com/IM Dates: Beginning of each month - Released 25 of each month - DDL for info from LCs to send Channel: News in MyAIESEC.net
Info Tables in Office
Types: Calendar of Monthly Events with Birthdays of LC Members List of contacts of LC Members LC Vision, LC Year & Term Goals, Current State LC Structure with pictures and JDs (EB, Managers, Teams) LC Projects with project description, OCP & OC members listed Promo materials according current campaign (raising, matching) Map with trainees/returnees Thanks Wall
General Internal LC Wiki: Update info about current campaigns    
Info in google apps
Update info in: Google calendar of events Management Body Plans (Google spreadsheet) LC Resources (Google spreadsheet) Contact List of LC Members (Google spreadsheet)
Internal Promo Campaigns
Responsible for IM on LC level: Create & Drive promo campaigns for LC activities with appropriate VPs (raising, matching, recruitment, leadership positions etc.)
Tool to plan promo campaigns for different target audiences   Template List - Time-Table of promo activities in LC Promo campaigns - Description of promo campaigns   All promo campaigns should be reflected at Template, but Template can also reflects other activities - not only promo campaigns.
From IPM 2009
Positioning in AIESEC Network
Positioning in AIESEC Network - it's promotion of LC for other LCs & countries.   Purposes: General representation of LC, it's activities Promotion of Exchange & other opportunities Channels: National/International meetings & conferences Promo-packages for EPs/CEEDers/Trainees MyAIESEC.net (wiki/classifieds/news) Social Networks (youtube, twitter, facebook) E-mails Tools: Printed materials (information booklets, fliers, posters, stickers, logo) Information on Digital data medium (USB, CD) Movies Pictures/Slide-show Promo-letters Content examples: (depends on purpose/channel/tool) general info about LC (history, age, # of members etc.) LC structure numerical results for previous terms vision, goals & current state projects' description (especially PBoXes) links for LC life in social networks contacts movies about trainees/LC life/events/county/city search tools reception booklet info about country/city good case practices (GSP)   What to do with Positioning working as OC IM: Provide up-to-date info/materials about project, using different tools, for promo on different channels  
Contains only documents. Movies about the city, LC and trainees should be included also.
Fliers for conferences Postcards Sticker Projects' posters Logos Posters for conferences
Promo posters for Spring Projects in SPUEF, 2010
Knowledge Management (KM)
KM is about creating such conditions, when knowledge and experience are effectively used for fulfillment tasks, which are important for organization.   Effective KM includes: Exploration of existing knowledge Data mining, localization of knowledge General LC documents/templates GCPs from projects (marketing researches/materials, descriptions, proposals, press-releases, tools, outputs after follow up etc.) Educational Manuals in different Functional Areas Outputs after follow up of the events/projects/conferences Educational materials after trainings/conferences Useful resources/articles/links/movies Tools for automation and saving knowledge Wiki/Files on MyAIESEC.net Office PC Organization of knowledge sharing Support using of MyAIESEC.net Support internal communication (see in Internal Com section) Organize training/learning circles (may be on-line) (LCVP TM is responsible) Using knowledge in education, decision making processes, solving problems What to do with KM working as OC IM: Store useful resources & links in project area Store main project documents & prepare them for OCP wiki (marketing researches/materials, descriptions, proposals, press-releases, tools, outputs after follow up etc.)
Marketing Materials Creation
Responsible for IM on LC level: Creates marketing materials with LCVP Com for recruitment, annual report (posters, fliers, invitations) for LC promotion on internal national/international conferences business cards for members Edits marketing materials (logo/brand/typography/AIESECnumbers filter): for projects' events, promotion (posters, fliers, booklets) proposals   What to do with Marketing Materials working as OC IM: Create marketing materials for project (posters, fliers, booklets, logo) Edit project's proposals Provide info/materials about project for promo on internal national/international conferences Business Cards for project's members      
Logos Typography Colors combinations AIESEC numbers Templates (posters, business cards etc) etc
Recruitment Promo Materials 2009
IT-Systems Management
MyAIESEC.net
Many organizations have their Intranet systems - computer network or technologies for sharing any part of information withing the organization. So, it's used by employees inside of organization as opposed to Internet or external web-pages and other resources.   MyAIESEC.net - it's Intranet system in AIESEC.   In our LC Responsible for IM works with MyAIESEC.net in following ways: Update LC Wikis: for external (AIESECers out of LC) & internal (LC members) users Create Classifieds/News/Files Manage Teams Structure (by EB) Approve members on different stages and assign roles (by EB) Educate members on how to use the system   What to do with MyAIESEC.net working as OC IM: Provide info about your project for promo on Exchange Wiki Create Classifieds for X promo or Events promo (opened for AIESECers out of LC) Promote X opportunities withing Groups function  
Responsible for IM on LC level: Edits (structure+pictures) and publish information on Web-page (news, general info, projects' info) Develops attractiveness of Web-page Promotes Web-page on-line   What to do with Web-page working as OC IM: Provide info about project: news info for project page logo of partners   Find out standards for information provided for publishing by link
Google/gmail
Responsible for IM on LC level: Subscribes LC members to LC Google groups Creates writing policy on LC Voice Educate members on: - how to use Google Apps (spreadsheets, docs, calendars, ppts) - how to use Gmail effectively (tags, archive, tasks, chat, filters etc.)    
Internal communication
Responsible for IM on LC level maintains platforms for internal communication (with LCVP TM & LCP): Creates LC Meetings Structure Updates info in Social Networks/Blogs (pictures, movies, stories - in our LC mostly vkontakte.ru) Ensures existence and promotion of informal/corporate meetings Promotion of trainings/learning circles/conferences Provides tools for leaving feedbacks/sharing ideas (boxes, spreadsheets, questionnaires)   Responsible for IM can be one of those people, who takes care about development and support of corporate culture in LC.
To get to Moscow from SPb we will use auto rather than cart.   This is because we used to use modern things, which makes our life more comfortable and saves our time.   Using different programs in our everyday work, we can make it more effective and easier.   Follow the link to find different useful for work programs.