Sketchbook1 (open-source projection)
by
Taeung Moon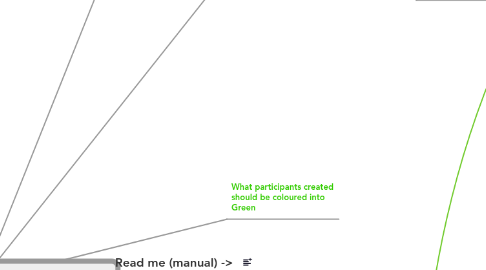 0.0
stars - reviews range from
0
to
5
What participants created should be coloured into Green
what is authenticity? We always looking for authenticity in most of choices, but is it so?
approach?
What is first thing to think about approach?
Read me (manual) ->
To explore the map fully.   Please note that this is open-source artist's "sketchbook" that is being used continuously. Entire history can be seen by clicking Clock like button on the right below. You can see further information on topic by clicking grey circle next to topic. Click "help" button on top right of the screen for further information. You can embed this map anywhere on the map you'd like to. To collaborate on the map 1.    Please select the topic you'd like to make comment or contribute. ex) Click "Value of art". (If you want to create new topic, just create topic by "TAB" button, type your name with topic title together and colour them in Green by using menu on the right) 2.    Then press "TAB" button on your key board to create New Node. 3.    Type your name and click Text Formatting on the right menu and please color the topic to Green. 4.    Click "Extras" in menu on the right side of the screen. 5.    Then you'll see Yellow 'post-it'. Click "Advanced" right below it. 6.    Start to build your collaboration. 7.    Leave yours contact details preferably email, if you don't mind to. 8.    Click "help" button on top of the screen for further information.     • PLEASE DO NOT DELETE/EDIT/MOVE ANY EXISTING NODE/TEXT. •    Visit website for further information.
ETC
Consciousness and body (conscious perception of body)
Adding and degrading values / creation from nothing, something into nothing /
Structure of the internet needs to be re-structured. what does it mean that I search for info? more info needs to be provided. more organisation and network
Current projects?
Improvisatory making
Start blogging!!
A priori
The moment
The beginning
Position?
self?
Art?
Artist?
Human context?
history?
Culture?
Structure I'm in?
Structure I'm not in?
Current concerns?