Learning Technologies
by
Lisa Butler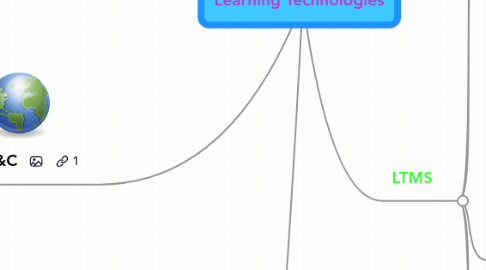 0.0
stars - reviews range from
0
to
5
Learning Technologies
510
Site Visits - amazing to see what we study in action
CMS, Task Flow, Importance of Metadata, Work skills for future students - if you can't do it, teach yourself how to do it, The line for copyright is really blurry - even to people who own the rights to images. Free vs. Creative Commons
JPL, There is a reason for a clearly divided storyboard, The business side of LT, Budget, Assumptions, Profit, You get what you pay for, "you can do anything with enough money and monkeys"
PolyClinic, Able to see difference $$ makes, Importance of de-briefing
Group Wiki
Collaborative work is hard
Too many opinions muddy the outcome, wording, style
clear expectations are needed
Management Systems
Course Management Systems (CMS)
Learning Content Management System (LCMS)
Course Management System, Moodle
Virtual Learning Environment, The easy out - European style b/c it covers all the systems
Virtual Worlds
Second Life, Computer speed MAJOR issue, Kept falling off the rooftop b/c of processing delay, Some relevant locations for educational 'field trips', Not a safe place to practice Spanish with native speakers, Was hit on within seconds of entering Virtual Barcelona - not student appropriate, First LT I did not enjoy/envision using - sorry just being honest
Small World, Creepy Encounters, Different social dynamic - setting people on fire?
Games
Emersive Games vs. Flat Games, So many pre-created options
Still need to fulfill the objective
Mobile Learning
"There is an App for that", Including MindMeister & Moodle App, Apple has THOUSANDS of Apps, So many possibilities for a Spanish classroom, I bought an iPod Touch b/c I wanted to see what I could specifically recommend for my students to use for personal enrichment or remediation of specific topics, Some class use = HUGE success, My Spanish App research - list of apps, 690 PAGES of education apps on iTunes
Learning without time limitations
@ K12 level - more supplementary than primary (except netbooks in classroom)
Use what people have/like, SmartPhones, Cell Phones, iPod Touches, etc, unsure about the iPad ... not overly impressed, at least not until the bugs are worked out
Classroom Technology
Some is easier to use than others
Free vs. Paid, Many free options, but you might need to be creative to use, Tech is not cheap, it is an investment, Training necessary
Pet Peeves
Expensive, Unnecessary gadgets/websites
Using Cool Technology "Just Because"
Technology Sitting Idle
Politics of Technology
Students complaining about using technology
Misuse of technology
Resources
Endless
Always Changing
24/7 Access
Need to Evaluate Resources
LTMS
500
Is there a need?
Have a Plan B & Plan C
Adapt
520
Multiple types of assessment, Formal, Informal, Formative, Summative
Feedback is crucial
Reflection by teacher
Backwards Design
Test knowledge, not the tool
Importance of finding right tool
600
Taking Learning outside walls of classroom
PLN, blogs, Twitter
wikis
podcasts
Skype, Easily bring an expert into class
Google Earth
Embed resources in blogs, wikis, Moodle
603
Patience
Check for alternative, pre-made solutions
Time Management, Creation Time vs. Need
525
How people learn
How people think
How technology has changed 1st two, Google
Motivation
Connectivism
AWESOME
Frustration w/ internet not working
Respect for other teachers struggles
Technology I want to try:
Cell Phones
iPod Touch
GoogleWave
Green Screen Video
Power of the Ning & Backchannel Chat
Sir Ken Robinson
Students need creativity
Catering Model vs. Fast Food Model for Education
We always need to remember what is best for the kids
Expanding PLN
Many of my followers/followees are FL teachers in Europe, so many unique ideas
Fascinated to see the flow of ideas/visible sharing