Management & Leadership Tips
by
Toni Krasnic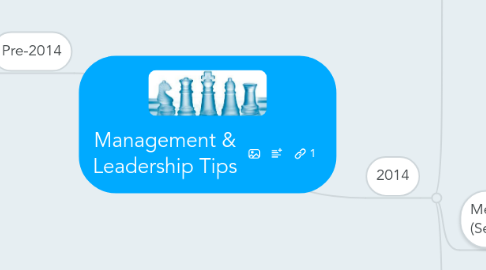 5.0
stars -
5
reviews range from
0
to
5
Mind map summaries of tips on management and leadership.
2014
Leadership begins with mindsets!, Thoughts, Feelings, Emotions
1. Find your strengths
2. Practice the pause, Fight, flight, freeze, Pause, reflect, manage, What is the outcome I want?
3. Trust, Learn aspects of trust that matter most, To you, To others
4. Choose questions wisely, Problem-based, Solution-based
5. Recover, Physical, Mental, Emotional, Spiritual
Disappointment, Big Dreams, Poor work habits, Shortcut seeking, Lottery thinking, Lack of self-awareness
Success, Do your work, Get better, Small win at a time, Earn one fan at a time
Boost Performance by Managing Mindfully   Mindfulness is the process of actively noticing new things. Paying attention to what's going on around you, instead of operating on auto-pilot, can reduce stress, unlock creativity, and boost performance. To be more mindful and encourage the practice within your team: •   Make not knowing okay. Encourage your team to ask, "Why? What are the benefits of doing it this way versus another way?" Such questioning helps you recognize and take advantage of new opportunities. •   Imagine that your thoughts are completely transparent. If they were, you wouldn't think awful things about other people; you'd find a way to understand their perspectives. •   Remember that stress comes from how you look at events, not from the events themselves. If you feel overwhelmed by your responsibilities, question the belief that you're the only one who can do a task or that there's only one way to do it.  
Process of actively noticing new things
Make the moment matter!
Benefits, Puts you in the present, Focus (attention), Remember more, Creative, Engaged, Less judgmental
Tactics, Imagine that your thoughts are totally transparent, Work/life integration (not balance), That's right!, Win-Win, Many options with different outcomes, Different perspectives
 In most highly effective workplaces, it"s the boss that is the most important force creating an environment when intrinsic motivation can happen. Tips Give Praise: Be really generous with praise. People LOVE this! Praise every little thing that an employee does well, trust me, they'll never get tired of it. Price: FREE Be Flexible: At Officevibe, we have an unlimited vacation policy that was modeled originally after Netflix and Hubspot, and I can tell you firsthand that it's incredible. It removes a lot of the stress with needing to take time off. It also makes us as employees feel respected, and that management trusts us. Price: FREE Do Team Building Activities: Team building activities are an amazing way to increase employee engagement, and boost morale. There are a lot of great options but my favorite ones involve alcohol Price: FREE (depending on what you do) Encourage Healthy Lifestyle: You'd be surprised how much of an effect this one has on employee motivation. To have an employer show that they care about an employee's well being is one of the nicest things that they can do. You don't necessarily have to install a gym in your office, but maybe offering to split the gym membership costs with employees?Price: Few hundred dollars, depending on what you do Get Out Of The Way: This one goes back to employee autonomy, but it's also a nice idea to let the team work as a team, and not take orders from one moron at the top. One of the easiest things you can do to improve employee motivation, is to do nothing at all. Price: FREE Ask Instead Of Telling: Instead of saying "you should do it like this!", you can say "do you think this way makes sense?", that way the employee feels like they were part of the decision making process, instead of being told what to do. Price: FREE
Autonomy
Mastery
Purpose