Chinese New Year Kindergarten Integrated Unit Jamie Lopez
by Jamie Lopez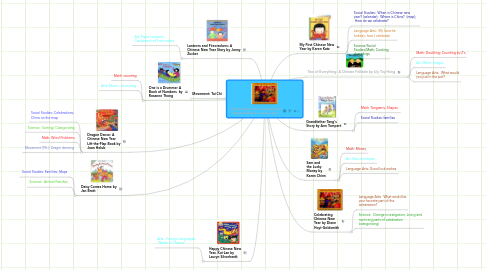 1. Two of Everything: A Chinese Folktale by Lily Toy Hong
1.1. Math: Doubling; Counting by 2's
1.2. Art: Mirror Images
1.3. Language Arts: What would you put in the pot?
2. Happy Chinese New Year, Kai-Lan by Lauryn Silverhardt
2.1. Arts: Foreign Languages: Words in Chinese
3. Daisy Comes Home by Jan Brett
3.1. Social Studies: Families; Maps
3.2. Science: Animal Families
4. Lanterns and Firecrackers: A Chinese New Year Story by Jonny Zucker
4.1. Art: Paper Lanterns; Cardboard roll firecrackers
5. Celebrating Chinese New Year by Diane Hoyt-Goldsmith
5.1. Language Arts: What would be your favorite part of the celebration?
5.2. Science: Orange investigation; Living and nonliving parts of celebration (categorizing)
6. Dragon Dance: A Chinese New Year Lift-the-Flap Book by Joan Holub
6.1. Social Studies: Celebrations; China on the map
6.2. Science: Sorting/ Categorizing
6.3. Math: Word Problems
6.4. Movement (P.E.): Dragin dancing
7. Grandfather Tang's Story by Ann Tompert
7.1. Math: Tangrams; Shapes
7.2. Social Studies: families
8. One is a Drummer A Book of Numbers by Rosanne Thong
8.1. Math: counting
8.2. Arts: Music - drumming
9. Sam and the Lucky Money by Karen Chinn
9.1. Math: Money
9.2. Art: Red envelopes
9.3. Language Arts: Good luck wishes
10. My First Chinese New Year by Karen Katz
10.1. Social Studies: When is Chinese new year? (calendar); Where is China? (map); How do we celebrate?
10.2. Language Arts: My favorite holiday; how I celebrate
10.3. Science/Social Studies/Math: Cooking dumplings
11. Movement: Tai Chi