E-Commerce: Chapter 2
by
fergie cancade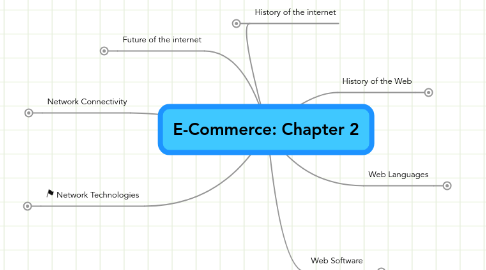 3.5
stars -
2
reviews range from
0
to
5
E-Commerce: Chapter 2
History of the internet
1960: Dept. of Defense developed the internet
1969: ARPANet
1972: Email
1974: TCP/IP
1979: Usenet
This is email for groups
1980: NSF
New node
1993: CBC Peter Mansbridge
1995: Privatized
History of the Web
1945: Vannevar Bush - Memex
1960's: Ted Nelson - Hypertext
first person to create hypertext
1987: Ted Nelson - xanadu
1989: Tim Berners-Lee - WWW
1993: Marc Andreesen - Mosaic
The first web browser
1994: Andreesen & Clark - Netscape
Enhanced version of mosaic, soon to become firefox
2004: Web 2.0
ex. Facebook, youtube, myspace etc.  The differentiation between web1.0 and web2.0 is that web1.0 is passively consuming content, whereas web2.0 is actively producing content. eg, messages on facebook Web 2.0 allows us to not only look over the contents of the internet but contribute to the contents of the internet.
Future: Moving towards web 3.0
Web Languages
SGML
First standards est. in 1986
DHTML
XML
XHTML
HTML
cascading styles sheets
Scripting and Programming
java
Perl
PHP
Python
Javascript, Ajax, Client Side, Server Side
VBScript
Tutorials
Web Software
webservers
webservers can be anything from computers to PDAs. Run by linux
Apache
IIS
HFS
Server to go
EasyPHP
XAMPP
Web Clients
Internet Explorer
Mozilla Firefox
Opera
Flock
Network Connectivity
Public
Internet
MAN/WAN
Private
Intranet
Extranet
VPN
Bandwidth
Phone Line, POTS, ISDN
Broadband, Cable, DSL
Leased Line, t1/t3, ATM/OC3
Wireless, iRDA, Bluetooth, Wi Fi, Cellular, Satelitte
Network Technologies
Hardware
routers
hubs
switches
gateway
access point
modems, cable modem, POTS modem, DSL modem
Internet Protocols
these are all applications on the internet.
internet, tcp, ip, 192.168.1.x, 127.0.0.1, domain names, telnet, Voice over internet protocol (VOIP)
e-mail, SMTP, POP3, IMAP, Webmail
newsgroups, NNTP
files, FTP, SFTP
world wide web (web), HTTP, HTTPS
Future of the internet
Internet 2
Semantic Web