David Gruber
by David Gruber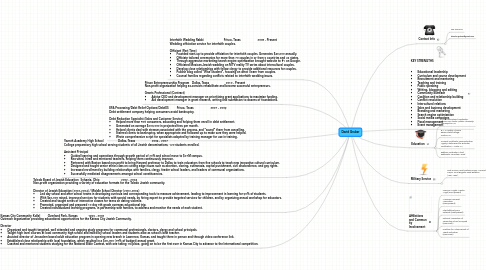 1. Interfaith Wedding Rabbi Frisco, Texas 2008 - Present Wedding officiation service for interfaith couples. Officiant (Part Time) • Founded start-up to provide officiation for interfaith couples. Generates $40,000 annually. • Officiate tailored ceremonies for more than 70 couples in or from 9 countries and 24 states. • Through aggressive marketing/search engine optimization brought website to #1 on Google. • Officiated Mexican-Jewish wedding on MTV reality TV series about intercultural couples. • Develop close relationships with fellow clergy to provide additional resources for couples. • Publish blog called "Wise Student", focusing on what I learn from couples. • Counsel families regarding conflicts related to interfaith wedding issues.
2. Prison Entrepreneurship Program Dallas, Texas 2010 - Present Non-profit organization helping ex-convicts rehabilitate and become successful entrepreneurs. Grants Professional (Contract) • Advise CEO and development manager on prioritizing grant applications to maximize funding. • Aid development manager in grant research, writing and submission to dozens of foundations.
3. EFA Processing/Debt Relief Options/DebtXS Frisco, Texas 2007 - 2009 Debt settlement company helping consumers avoid bankruptcy. Debt Reduction Specialist (Sales and Customer Service) • Helped more than 500 consumers, educating and helping them enroll in debt settlement. • Generated on average $600,000 in projected fees per month. • Helped clients deal with stresses associated with the process, and "saved" them from cancelling. • Steered clients to bankruptcy, when appropriate and followed up to make sure they were helped. • Wrote comprehensive script for specialists adopted by training manager for use in training.
4. Yavneh Academy High School Dallas, Texas 2004 - 2007 College preparatory high school serving students of all Jewish denominations; 120 students enrolled. Assistant Principal • Guided learning and operations through growth period of 30% and school move to $27M campus. • Recruited, hired and mentored teachers, helping them continuously improve. • Partnered with Boston based non-profit to bring Harvard professor to Dallas to train educators from five schools to teach new innovative cultural curriculum. • Designed and taught senior ethics class on cutting edge issues such as abortion, cloning, euthanasia, capital punishment, civil disobedience, and gay rights. • Increased enrollment by building relationships with families, clergy, feeder school leaders, and leaders of communal organizations. • Successfully mediated disagreements amongst school constituencies.
5. Toledo Board of Jewish Education Sylvania, Ohio 2002 - 2004 Non-profit organization providing a variety of education formats for the Toledo Jewish community. Director of Jewish Education (2002-2004) / Middle School Director (2003-2004) • Led day school and after school teams in developing curricula and corresponding tools to measure achievement, leading to improvement in learning for 90% of students. • With $40,000 raised, improved services for students with special needs, by hiring expert to provide targeted services for children, and by organizing annual workshop for educators. • Created and taught series of interactive classes for teens on dating violence. • Promoted, organized and prepared 10 day 8th grade overseas educational trip. • Created individualized learning programs, in partnership with families, to address and monitor the needs of each student.
6. Kansas City Community Kollel Overland Park, Kansas 1999 - 2002 Outreach organization providing educational opportunities for the Kansas City Jewish Community. Director • Organized and taught targeted, well attended and ongoing study programs for communal professionals, doctors, clergy and school principals. • Taught high level courses at local community high school and hailed by school leaders and students alike as school's best teacher. • Assisted director of Jerusalem based adult education program in opening new branch in Lawrence, Kansas, and taught there in person and through video conference link. • Established close relationship with local foundation, which resulted in a $20,000 (15% of budget) annual grant. • Coached and mentored students studying for the National Bible Contest, with one taking 1st place, going on to be the first ever in Kansas City to advance to the International competition.
7. Contact Info
7.1. 469.222.0047
8. Education
8.1. M.S. in Educational Leadership, summa cum laude, Walden University, Minneapolis, MN
8.2. B.A. in History, Thomas Edison State College, Trenton, NJ
8.3. Principal Certificate, Texas Education Agency, State Board for Educator Certification – Austin, TX
8.4. Rabbinic Ordination, Chief Rabbinate, Jerusalem, Israel
9. Affiliations and Commun ity Involvement
9.1. Imerman Angels, Mentor Angel (2010-present)
9.2. American Humanist Association (2009-present)
9.3. Interfaithfamily.com Network (2008-present)
9.4. National Association of Secondary School Principals (2006-2007)
9.5. Coalition for Advancement of Jewish Education (2002-2006)
10. Military Service
10.1. Tank Gunner, Israel Defense Force, Armored Corps, 401st Brigade, 52nd Battalion (1991-1994)
11. KEY STRENGTHS • Educational leadership • Curriculum and course development • Recruitment and mentoring • Teaching and training • Public speaking • Writing, blogging and editing • Community outreach • Coalition and relationship building • Conflict resolution • Intercultural relations • Sales and business development • Branding and marketing • Search engine optimization • Social media campaigns • Fiscal management • Event management