Facilitation (based on Process Iceberg®) study guide mind map
by
Mirosław Dąbrowski, COO, Agile&IT Coach, Trainer, Consultant, Product Owner, Entrepreneur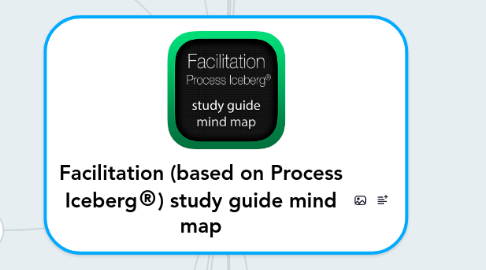 5.0
stars -
30
reviews range from
0
to
5
Facilitation (based on Process Iceberg®) study guide mind map
Trademarks are properties of the holders, who are not affiliated with mind map author.
The Process Iceberg® Facilitation Programme is designed to give individuals the skills and expertise to become effective Facilitators, capable of operating in a wide variety of situations. It is also designed to provide the structure and framework to introduce a facilitated approach to improvement, innovation and change in organisations.
Process Iceberg® Model (1)
model is:
levels
usages (3)
The Task (red) (1)
TASK = What we do
Task is WHAT the group is doing (what we are doing)
The Degree of Task uncertainty
For Task responsible is:
The Process (green) (1)
PROCESS = How we do it
Process – the means of production – takes raw materials (ideas) and turns them into a finished product (decisions) with the minimum of waste (effort) through the maximization of the resources (people's time) available.
Process is the MEANS / WAYS of addressing the task, of finding ways to make headway
A long list of tasks does not defines HOW to tackle / resolve / finish them
Facilitation adds this "Process based approach" to meetings
Process is the combination of:
For Process responsible is
Process awareness
The Facilitator is there to design, adapt, change and manage the Process to the benefit of the task, taking into account the parameters expounded in previous chapters:
Format
Feedback Model
Feedback Model provides the means to:
4 circles / level:
Words to Use when Feeding Back (to check understanding)
Words to Use when using Reverse Feeding Back (to confirm understanding)
Using Analogy with Feedback
Who does the Feedback in groups based on group maturity:
Myers Briggs Type Indicator® (MBTI)
MBTI is a personality typing tool
E
I
S
N
T
F
J
P
12 quick tips to better care for ...
This freeware mind map was carefully hand crafted with passion and love for learning and constant improvement as well for promotion the Facilitation based on Process Iceberg® and as a learning tool for candidates wanting to gain Facilitation qualification. (please share, like and give feedback - your feedback and comments are my main motivation for further elaboration. THX!)
Roles (3)
Task Leader
Facilitator
Group
Models, Tools, Techniques
Within a Model, there will be more than one Tools and within a Tool, there will be more than one Techniques,
Models (10)
Tools (21)
Techniqes (19)
Additional, reated resources
International Association of Facilitators
Knowledge Sharing Methods and Tools - A Facilitator's Guide
Facilitation Tools for Meetings and Workshops
Facilitator Tool Kit
Facilitating Participatory Workshops
Effective Group Facilitation
Facilitation publications
Facilitation - An Art, Science, Skill or all three?: Build your expertise in Facilitation
Facilitation - A Manual of Models, Tools and Techniques for Effective Group Working
Process Iceberg® Review Model (1)
The Process Iceberg® Review Model provides a mechanism to help groups review their performance in terms of the Task and Process and to establish a 'charter1 of actions and behaviours that will enable them, in the future to become even more effective.
usages (1)
Facilitation exams
Facilitation sample exams, available online
Facilitation
Facilitation is a basic life skill that can be used profitably to:
Facilitating actually means:
Facilitation can support organizations, enabling people to work in a collaborative, participative way to tackle key issues and make fundamental decisions.
Effective facilitation can make the difference between a poor and a brilliant decision.
It can make the difference between a solution that has hidden problems and one that is robust.
Facilitation has three basic principles: