Hier aujour'hui: 2014.09.30
by Luc Prévost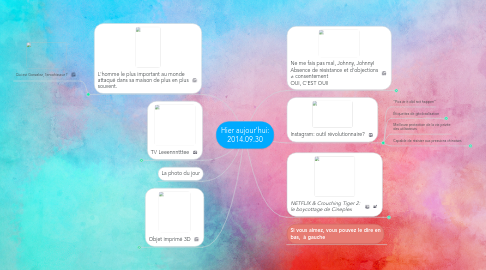 1. L'homme le plus important au monde attaqué dans sa maison de plus en plus souvent.
1.1. Qui est Gonzalez, l'envahisseur ?
2. Ne me fais pas mal, Johnny, Johnny! Absence de résistance et d'objections ≠ consentement OUI, C'EST OUI!
2.1. La Californie passe la première loi qui force le consentement explicite des partenaires sur les campus.
2.2. Pourquoi juste sur les Campus universitaires?
3. Instagram: outil révolutionnaire?
3.1. "Pics or it did not happen"
3.2. Étiquettes de géolocalisation
3.2.1. Meilleure filtrage que Twitter et FB
3.3. Meilleure protection de la vie privée des utilisateurs
3.4. Capable de résister aux pressions chinoises
3.4.1. Pour l'instant
4. NETFLIX & Crouching Tiger 2: le boycottage de Cineplex
4.1. Netflix lance le film dans les cinémas et sur le net en même temps.
4.1.1. IMAX et Weinstein sont partenaires
4.2. Le géant canadien Cinéplex refuse de diffuser le film si Netflix le diffuse simultanément.
4.2.1. Mike Langdon, a Cineplex spokesman, argued that theaters remain the best way to see a movie and that the theatrical release window would be undermined if it agreed to screen the film.
5. TV Leeennntttee
5.1. Un bon exemple ?
5.2. La Norvège fait fort ;-)
5.2.1. Slow TV: Norway's 'National Knitting Evening' Spins Big Ratings & Calls For More
5.3. Marshall McLuhan est de retour
5.3.1. "A hot medium is one that extends one single sense in 'high definition,' " Marshall McLuhan wrote in his famous, meandering study of different media forms. "Hot media are, therefore, low in participation and cool media are high in participation or completion by the audience." Slow TV is high-definition in its visual information, yet it gets its meaning from viewers' imaginative consciousness. As entertainment, it is backward: it appears to do its job by casting viewers into their own minds.
5.4. Le tourisme du futur?
5.4.1. Nous sommes tous anthropologues
6. La photo du jour
7. Objet imprimé 3D
7.1. J'effectue une veille technologique par l'image sur Pinterest:
8. Si vous aimez, vous pouvez le dire en bas, à gauche