PARTS OF THE BODY IDIOMS
by
Bibiana Villarraga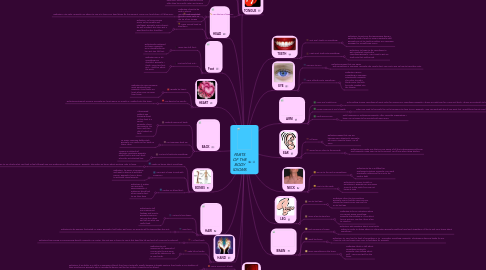 0.0
stars -
0
reviews range from
0
to
5
PARTS OF THE BODY IDIOMS
This is just a demo map that you can delete right away, if you feel like it...
ARM
"Give one´s right arm"
"Keep someone at arm´s length"
"With open arms"
BACK
"Behind someone´s back"
"Put someoné back up"
"Put one´s back into something"
BLOOD
"Be in someone`s blood"
"Get someone`s blood up"
"Blood run cold"
BONES
"Make no bones about something"
"Have got a bone to pick with someone"
"Makes my blood boil"
BRAIN
"Pick someone's brains"
"Rack her brain"
"Have something on the brain"
EAR
"All ears"
"Keep his ear close to the ground"
EYE
"See eye to eye"
"Turn a blind eye to something"
Foot
"Have two left feet"
"Put one`s foot in it"
HAIR
"Let one´s hair down"
"Tear hair"
HAND
" At first hand"
"Take life in hands"
HEAD
"Keep my head"
"Have a good head on shoulders"
HEART
"Breake his heart"
"His heart in his mouth"
LEG
"On its last legs"
"Have a leg to stand on"
NECK
"Be up to the neck in something"
"Get it in the neck"
TONGUE
"Hold your tongue".
"Bit your tongue"
"On the tip of tongue"
TEETH
"Cut one´s teeth on something"
" Get one´s teeth into something"