Krystal Escareno Smartphones
by Krystal Escareno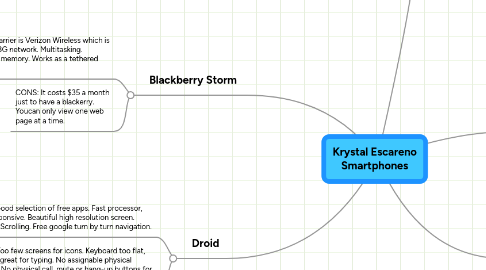 1. iPhone 3Gs and 3G
1.1. PROS: -Thin sleek design, Support for faster 3G support (7.2 Mbps HSDPA), Significantly faster than the iPhone 3G (particularly graphics performance -- Open GL ES 2.0 -- which can make a big difference for gaming).
1.2. CONS: Battery life may be insufficient for heavy users, Some competitive mobile phones offer superior cameras and additional features. Takes time to get used to the keyboard, especially if you have chubby fingers. There's no picture capture or recording. There's no improvement on the 2 mega pixel camera. There's no copy and paste feature. No expandable memory cards. Google maps limitation.
2. Blackberry Storm
2.1. PROS: It's carrier is Verizon Wireless which is the largest 3G network. Multitasking. Expandable memory. Works as a tethered modem.
2.2. CONS: It costs $35 a month just to have a blackerry. Youcan only view one web page at a time.
3. G1
3.1. PROS: Has the power of a desktop browser. Extended home screen. Android market it comes with a lot of free apps.
3.2. CONS: Physical keyboard hard to user. requires gmail account. Smart touch interfaces (not multi-touch like iPhone.
4. Droid
4.1. PROS: Good selection of free apps. Fast processor, very responsive. Beautiful high resolution screen. Smooth Scrolling. Free google turn by turn navigation.
4.2. CONS: Too few screens for icons. Keyboard too flat, not that great for typing. No assignable physical buttons. No physical call, mute or hang-up buttons for phone use.
5. Palm Pree
5.1. PROS: Great for multi-tasking! Internet is twice as fast. No crashing phone seems to run well. Has big speaker, helps with conference calls, and listening to music or watching videos.
5.2. CONS: Video isn't as smooth and clear as iPhone. Smaller screen. No visual voice mail. Storage is only 8GB.