Back to Public Maps
The Ultimate Guide to Planning and Building a Website
The Ultimate Guide to Planning and Building a Website
by Zachary Taffany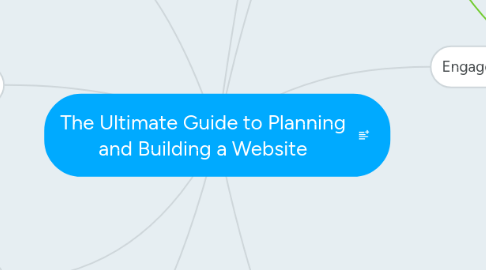 1. CTAs (Call to Action)
1.1. Buy/Sign-up
1.2. Download
1.3. Request information/consultation
1.4. Share
1.5. Follow
1.6. Play
1.7. Learn More
2. Engagement
2.1. Engagement Results Areas
2.1.1. Share via social media
2.1.2. Make a purchase
2.1.3. Download an ebook or whitepaper
2.1.4. Follow via social media
2.1.5. Information requests
2.1.6. More page visits
2.1.7. More time on page
2.2. How to increase engagement
2.2.1. Branding
2.2.2. Gamification
2.2.3. 6 Principles of persuasion
3. Golden Circle
3.1. Why are we using a website?
3.1.1. The market expects an organization to have a professional web presence
3.1.2. Provide Information and transparency
3.1.3. Create trust
3.1.4. Attract leads for clients and affiliates
3.1.5. Provide value additive services?
3.2. How do we want to use this tool?
3.2.1. Lead generation
3.2.2. Does our site take advantage of the six scientific principles of persuasion?
3.2.3. What is the main thing people are looking for when they arrive at our site?
3.2.3.1. Why
3.2.3.2. How
3.2.3.3. What
3.2.3.4. Cost
3.2.3.5. Benefit/Potential result
3.2.4. How does our site build trust in our message?
3.3. What do we want people to do at our site?
3.3.1. Sign up
4. Website Design Resources
4.1. Tips
4.1.1. Marketing site design, when approached from a strategic standpoint, can make a huge difference in your company's profitability.
4.1.2. First, do no harm with your marketing site
4.1.3. Set up analytics to track how changes in design affect conversions, and ultimately, profit.
4.1.4. Consider oversized images for your homepage and landing pages.
4.1.5. Consider where your images are directing visitor's eyes.
4.1.6. Keep signup forms as short as possible.
4.1.7. Consider a two-step opt-in form strategy.
4.1.8. Keep your pricing page simple, providing clear distinctions between plans.
4.1.9. Test your pricing pages from biggest plan to smallest, and vice-versa.
4.1.10. Address barriers to purchasing with testimonials and guarantees.
4.1.11. Try blurring your pages with a call to action to see if it stands out.
4.1.12. Leverage social proof in your design strategy to secure trust.
4.1.13. Use landing pages to increase conversions from outside sources
4.2. Links
4.2.1. http://www.cio.com/article/2385250/online-marketing/13-simple-tips-for-improving-your-web-design.html
4.2.2. http://www.forbes.com/sites/cherylsnappconner/2014/03/27/25-web-design-tips-to-honor-25-years-of-the-web/
4.2.3. http://www.howdesign.com/featured/web-design-tips-7-common-mistakes-designers-make/
4.2.4. http://www.hongkiat.com/blog/5-tips-to-simplify-your-web-design/
4.2.5. http://www.hongkiat.com/blog/5-tips-to-simplify-your-web-design/
4.2.6. http://www.wix.com/blog/2014/03/5-web-design-tips-for-a-professional-site/
4.2.7. http://www.creativebloq.com/web-design/tips-812580
4.2.8. http://websitehelpers.com/design/
4.2.9. http://webdesign.about.com/od/webdesigntutorials/a/aa070504.htm
4.3. 29 Places to get free stock images
4.3.1. Pixabay – http://pixabay.com – CC0 license – no attribution required
4.3.2. Free range stock- no attribution required – http://freerangestock.com
4.3.3. Morgue file – mix of CC0 licensed images and images with other licenses – http://www.freeimages.com/home
4.3.4. StockSnap – https://stocksnap.io – no attribution required
4.3.5. Gaderinge – http://gaderinge.com – high quality public domain images
4.3.6. public domain archive – http://publicdomainarchive.com – all public domain pix
4.3.7. Picjumbo – lots of pictures with search and categories. Attribution required. http://picjumbo.com
4.3.8. GetRefe – Free category – http://getrefe.com/downloads/category/free
4.3.9. Life of Pix – http://www.lifeofpix.com – free, no attribution
4.3.10. Gratisopgraphy – http://www.gratisography.com – free to use
4.3.11. Pictography – http://picography.co – free to use – CC0 license – no attribution
4.3.12. Jay Mantri – http://jaymantri.com – free to use – CC0 license – no attribution
4.3.13. New Old Stock – http://nos.twnsnd.co – vintage photos, "free of known copyright restrictions"
4.3.14. ISO Republic - http://isorepublic.com – no attribution required
4.3.15. Pexels – http://www.pexels.com – CC0, no attribution required
4.3.16. SlitShire – stunning photos – no attribution required but donations requested – http://www.splitshire.com
4.3.17. Pickup Image – http://pickupimage.com CC0, no attribution required
4.3.18. Snapographic – http://snapographic.com – CC1 – no attribution required (but requested)
4.3.19. Creative Commons – search Flickr, Google images and other sites. Check "use for commercial purposes" and "modify, adapt and build upon" for the most flexible license. Attribution often required. http://search.creativecommons.org
4.3.20. Wikimedia commons – http://commons.wikimedia.org/wiki/Main_Page
4.3.21. Hubspot – 450 business photos free in exchange for email – http://blog.hubspot.com/marketing/75-free-stock-photos-im-ht
4.3.22. Magdelieine- mix of CC0 and attribution required – http://magdeleine.co/
4.3.23. Freepik – http://www.freepik.com – vector images but require attribution
4.3.24. Superfamous Studios – stunning pix, credit required – http://superfamous.com CC 3.0
4.3.25. Raumrot – great pictures, credit required CC2.0 – http://raumrot.com
4.3.26. IM Creator – free – http://www.imcreator.com/free – great icons, pictures and templates. Attribution required
4.3.27. Pattern Library – patterns that are free to use – http://thepatternlibrary.com
4.3.28. Unsplash – 10 free high res photos every 10 days – no attribution needed – nature, bridges, beaches, buildings – https://unsplash.com
4.3.29. Death to the stock photo – http://deathtothestockphoto.com – monthly free photos to your inbox
4.3.30. Little visuals – 7 pix every week – http://littlevisuals.co
4.3.31. Snapwire Snap – http://snapwiresnaps.tumblr.com – 7 pix every 7 days, free to use without attribution
4.4. Keys
4.4.1. Simplicity
4.4.2. Focus
4.4.3. Value
5. Website Layout
5.1. Design Options
5.1.1. Image Slider
5.1.2. One large background image
5.1.3. Color scheme limited to 2-3
5.2. Global Navigation / Main Pages
5.2.1. Home
5.2.2. About US
5.2.3. Products / Services offered
5.2.3.1. Pricing
5.2.4. Social Proof
5.2.4.1. Testimonials
5.2.4.2. PR
5.2.4.3. Results
5.2.5. FAQ's
6. goal
6.1. 1 page
6.2. mobile design
6.3. bare minimum words
6.4. video everything
6.4.1. marketing commercial
6.4.2. process walk through
6.4.3. testimonials
6.5. huge call to action
7. SEO
Recommended Maps