Online Learning for the Adult Learner
by Rickuel Martin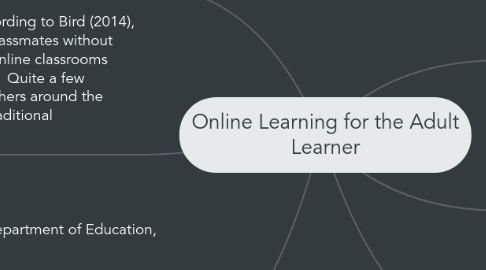 1. TOPIC: Is the online classroom a more effective way of learning? Yes it gives the student the freedom to attend class at their convenience and offers a more comfortable learning environment.
2. FLEXIBILITY and CONVENIENCE: It is undeniable that the online classroom offers more flexibility than the traditional classroom. According to the Education Today's Online Students Demographic Info-graphic (2011), the majority of online learners are over the age of 25. Therefore the reasonable assumption can be made that most of them will be juggling work and or family commitments. So flexibility and convenience will be a major component for most students.
3. TECHNICAL SKILLS: Technology is constantly progressing in our society and the online classroom helps develop new computer skills as well as fine tune prior skills. According to the staff writers of OpenEducationDatabase.org (2012) these skills are not only needed for the classroom but they are also becoming a vital part of the workforce as more and more organizations are requiring online training for their employees. It is also being used as a way to plan and share information between employers and employees.
4. SOCIAL INTERACTION: There has been great debate on this particular topic. According to Bird (2014), the online classroom gives you the ability to interact with the professor and fellow classmates without the added distractions of being in a traditional classroom. Pagnucco (2014) states online classrooms provide a great opportunity for you to interact with students from all over the world. Quite a few online courses are offered globally which not only allows students to interact with others around the country but around the world. This type of interaction wouldn't be as available in traditional classrooms.
5. RESOURCES: 1. http://cenewscenter.rutgers.edu/articles/2012/09/online-learning-smart-choice-adult-learners 2. http://www.rasmussen.edu/student-life/blogs/college-life/online-vs-traditional-education-answer-never-expected/ Kendall Bird (2014). 3. http://oedb.org/ilibrarian/10-advantages-to-taking-online-classes/ Staff writers (2012). 4. http://www2.ed.gov/rschstat/eval/tech/evidence-based-practices/finalreport.pdf U.S. Department of Education, Office of Planning, Evaluation, and Policy Development, Evaluation of Evidence-Based Practices in Online Learning: A Meta-Analysis and Review of Online Learning Studies, Washington, D.C., 2010. 5. http://www.eco.ca/traditional-vs-online-learning-which-format-is-right-for-you/ Janelle Pagnucco (2014). 6. http://www.classesandcareers.com/education/infographics/student-demographics-infographic/#comment-28982 Edcation Today (2011)
6. WHY THESE RESOURCES: I utilized the (Credibility Accuracy Reasonableness Support)CARS checklist when doing my research. This weeks lesson suggested that we try to stick with .org, .edu, or .gov sites and peer reviewed articles. This makes them very reliable sources for my project and the information they have proved to be relevant to my topic.