Summary
by Dehan De Croos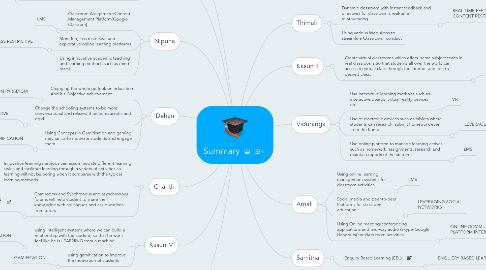 1. Using Social Networks [facebook] to collaborate with students
1.1. LEVERAGING SOCIAL NETWORKS
2. Abdul
2.1. The virtual classroom concept will Reduces travel time and travel costs as well as Students can study anywhere they have access to a computer and Internet connection
2.1.1. VIRTUAL CLASSROOM
3. Thimali
3.1. Dynamic classroom with instant feedback and directives for classroom's real-time re-structuring
3.1.1. REAL-TIME FEEDBACK AND CONTENT RESTRUCTURING
3.2. Using various Web-Apps to streamline Classroom conduct
4. Nipuna
4.1. Classroom Assignment/Content Management Platform[Google Classrom]
4.1.1. LMS
4.2. More fun, less restrictive and explorative online learning platforms
4.2.1. LESS RESTRICTIVE
4.3. Using innovative academic teaching and learning methods such as mind maps
5. Dehan
5.1. Changing the whole outlook on education And it's Objective achievement
5.1.1. A WHOLE NEW EDUCATION PARADIGM
5.2. Change the schooling systems to be more conversational and relaxed than bureaucratic and rigid
5.2.1. LESS RESTRICTIVE
5.3. Using Concepts in Gamification and gaming mechanics to motivate students and engage them
5.3.1. GAMIFICATION
6. Kasun T
6.1. Create virtual classrooms which offers same subject teach in real classrooms,So that students all over the world can access to virtual class through the internet and join to desired class.
6.1.1. VIRTUAL CLASSROOM - E/LONG DISTANCE- LEARNING
7. Viduranga
7.1. Use interactive learning methods such as interactive boards, virtual reality devices etc
7.1.1. VR
7.2. Use of electronic devices such as tablets where students can research, submit homework even from the home.
7.2.1. LEVERAGE SMART DEVICES
7.3. Use online platform to manage learning actives such as homework, assignments, research and maintain reports of the students.
7.3.1. LMS
8. Amali
8.1. Using online learning management systems for classroom activities
8.1.1. LMS
8.2. Social media and peer-to-peer Platforms for classroom education
8.2.1. LEVERAGING SOCIAL NETWORKS
8.3. Using Online meeting/conferencing applications and two-way audio (Skype/Google Hangouts) for class room activities
8.3.1. ONLINE COMMUNICATION PLATFORM INTERACTION
9. Charith
9.1. Innovative learning methods can accommodate different learning styles and facilitate learning through a variety of activities so learning will not be boring when it compares with the typical learning methods
9.2. Chat rooms and Synchronous and asynchronous forums will help student to share their knowledge with colleagues and ask questions from tutors
9.2.1. ONLINE COMMUNICATION PLATFORM INTERACTION
10. Kasun M
10.1. using intelligent systems where we can build a relationship with the student, so that he wont feel like he is LEARNING from a machine
10.1.1. AI TEACHER SIMULATION
10.2. using gamification to improve the motivation of students
10.2.1. GAMIFICATION
11. Samitha
11.1. Enquiry Based Learning (EBL)
11.1.1. ENQUIERY BASED LEARNING
12. Samila
12.1. systems which enable sharing and distributing information between students and educators and allow working collaboratively
12.1.1. LMS
12.2. Approaches to make learning more attractive and interactive
12.2.1. GAMING APPROACHES
12.3. Use personal response systems to encourage student participation
12.3.1. REMOTE RESPONSE SYSTEMS