How far do you agree that sport is too closely linked to money these days ?
by
Augustine Ethan Foo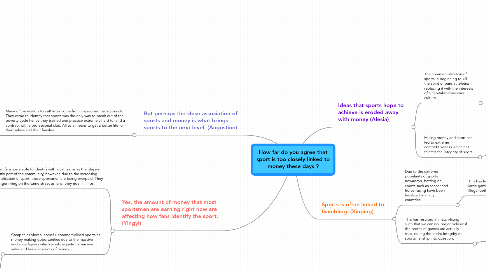 0.0
stars - reviews range from
0
to
5
How far do you agree that sport is too closely linked to money these days ?
Ideas that sports hope to achieve is eroded away with money (Alesia)
The commercialization of sports ie beginning to kill the spirit of pure atheletics replacing it with the interests of a capitalist-consumer culture.
Mixing money and sport has led to extreme competitiveness which has tainted the integrity of sport
But perhaps the close association of sports and money is what brings sports to the next level. (Augustine)
Many of the world's top athletes come from improvised backgrounds. They came to identify that sports was the only way to break out of the poverty cycle hence they trained and practice extremely hard to land a contract with a professional club. All as a means to get a better life for themselves and their families
Yes, the amount of money that most sportsmen are earning right now are affecting how fans identify the sport. (Yingyi)
In the past, fans were able to identify with local teams as the players were mostly part of the community, however, due to the increasing commercialisation of sport, these sportsmen are being overpaid. They are no longer living on the same street as fans, they ride in limos.
Campanies view successful commercialised sports as money making opportunities due to the massive audience figures which would equate to massive sales and huge amounts of money.
Sports is often linked to Gambling. (Xinping)
Due to the extreme popularity of sports nowadays, betting on sports such as soccer and horse-racing have been legalized in many countries.
This has resulted in match-fixing such that we can no longer believe if the scores of games are actually true, calling the entire integrity of sportsmanship into question.