Dataproblemer
by Trym Vegard Gjelseth-Borgen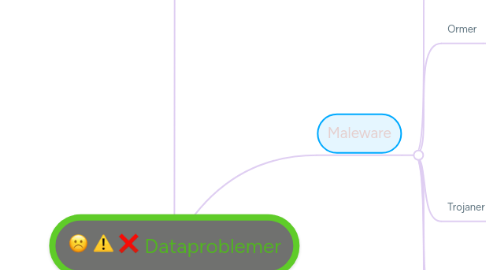 1. Maleware
1.1. Datavirus
1.1.1. Et datavirus kjennetegners ved at det er programkode som inflitrerer koden i programmer og enkelte typer dokumenter (som inneholder programkode). Hver gang disse programmene og doumentene så blir startet, kopierer viruset seg over i nye programkoder i filer den finner på din maskin og tilkoplede enheter (nettverksdisker, usb-minnepenner osv.) Når viruset har spredd seg tilstrekkelig eller det har gått en viss tid, starter så den ondsinnede delen av koden som kan gjøre alt fra å vise en propagandamelding til å gjøre maskinen din totalt ubrukelig. Det er viktig at viruset lever noe tid i "det skjulte" før det bryter ut, slik at det rekker å spre seg til felere maskiner før din egen maskin sier takk for seg.
1.2. Ormer
1.2.1. This program is very similar to a virus and has the ability to self-replicate leading to negative effects on your computer. Worm Viruses Include: lovgate.F sobig.D trile. C PSWBugbear.B Mapson
1.3. Trojaner
1.3.1. Trojans can illegally trace important login details of users online. For example E-Banking is very common among users, therefore, vulnerability of tracing your login details whenever your PC is working without any strong powerful antivirus installed.
1.4. Spyware
1.5. Bakdører
1.5.1. Man oppretter en skult måte å komme inn i ditt datasystem på. Dette kan f.eks. gjøres ved å endre programkoden bak innloggingen på en maskin eller tjeneste slik at et spesielt brukernavn/passord alltid er tillatt selv om ikke dette brukernavnet vises i listen over systemets kontoer.
1.6. Rootkit
1.6.1. Programvare som endrer grunnfunksjonene i operativsystemet eller i maskinvaren og dermed bidrar til å skjule seg selv og en annen malware, kalles rootkits.
1.7. Datahækker
2. Kem laga virus uansett Java.Backdoor.ReverseBackdoor.A