D I G I T A L R E S O U R C E http:www.wioyts.blogspot.com SKILLS 2 PAY BILLS
by
SKILLS 2 PAY BILLS - DIGITAL RESOURCE - www.wioyts.blogspot.com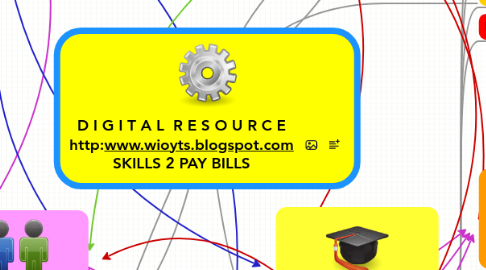 0.0
stars - reviews range from
0
to
5
Skills 2 Pay Bills is an initiative by Community Colleges NZ to develop information literacy through using online communication tools. It is currently under construction and will provide 'just in time' tutorials though film and current online media tools, often referred to as web apps. We'll share our tutorials and show you how to use these latest web applications to empower your journey into an age of knowledge and employment.
FEEDBACK
SURVEYS
Collaborators
EDUCATION PROVIDERS
TRAINING PROVIDERS
PROFESSIONALS
LEARNERS
TUTORS
OPEN Learning www resource
FREEWARE INDEX
Template Download
LINKS first draft
Work'n it Out If you're between 15 and 19 years and - You've left school and aren't doing anything Don't have a job Are in a job but you need advice Don't know what to do or be and need a helping hand Work'n it Out can help you! Work'n it Out supports teenagers aged 15 – 19 years who've left school to get a job, move into training or tertiary study. It's a FREE service available to any school leaver in the Timaru, Waimate, Mackenzie, Otago, Central Otago and Southland areas. Work'n it Out Contact Centre staff make contact with school leavers to check if things are going well. School leaver information is provided on agreement with schools. If you're okay, we'll keep in touch with you every six months or so until you're 20. If you need help through Work'n it Out we can provide mentoring, careers advice, support with job search skills, and workplace support. If you need a lot of support a Youth Co-ordinator provides one-on-one assistance - like a career coach, and will do all they can to help you find a job, start further training or simply figure out that next step. If you don't need a lot of help Work'n it Out's Contact Centre staff may support you. They'll help you sort out what type of support you need. If you need help, let the Contact Centre know – but you don't need to wait for them to call. You can phone Work'n it Out on 0800 500 029 or txt 0294 500 029 Work'n it Out is a Youth Transition Service funded by the Ministry of Social Development and provided by Community Colleges New Zealand.
South Canterbury FEED
Dunedin FEED
Southland FEED
FEED BACK
New node