Newtons Laws of Motion
by Brooke Ellington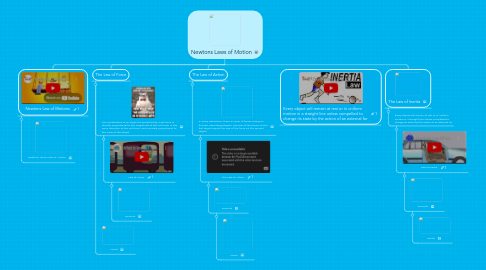 1. The Law of Action
1.1. in every interaction, there is a pair of forces acting on the two interacting objects. The size of the forces on the first object equals the size of the force on the second object.
1.1.1. The Law of Action
1.1.1.1. Formula
1.1.1.1.1. Action
2. The Law of Inerita
2.1. Every object will remain at rest or in uniform motion in a straight line unless compelled to change its state by the action of an external for
2.1.1. Law of Inertia
2.1.1.1. Formula
2.1.1.1.1. Inertia
3. The Law of Force
3.1. The acceleration of an object as produced by a net force is directly proportional to the magnitude of the net force, in the same direction as the net force, and inversely proportional to the mass of the object.
3.1.1. Law of Force
3.1.1.1. Formula
3.2. Force
4. Newtons Law of Motions
4.1. Newtons Three Laws of Motion
5. Every object will remain at rest or in uniform motion in a straight line unless compelled to change its state by the action of an external for