Beyond Hype: Understanding the Influences of Social Media on Learning and Scholarship
by
Rebecca Petersen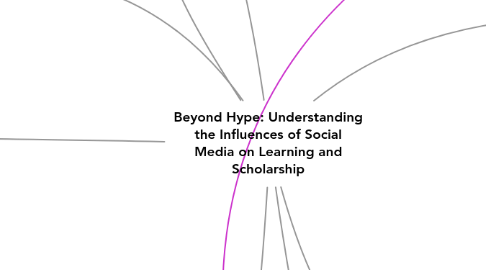 0.0
stars - reviews range from
0
to
5
Beyond Hype: Understanding the Influences of Social Media on Learning and Scholarship
Examples of Web 2.0 Tool Types
Web 2.0 tools allow for collaboration and sharing. This is just a sample list of common tools and specific examples. Some tools are purposefully used for publishing information. Other people use the tool to share and distribute, and others use them for both.
Wikis
PBWorks
WetPaint
Wikispaces
Blogs
Tumblr
Blogger
WordPress
Edmodo
Video
YouTube
SchoolTube
Vimeo
Viddler
Photosharing
Flickr
Picasa
Twitpic
Communication
These are examples of communication networks-- YouTube might seem strange here, but many people are using YouTube as a vlogging tool (video blog).  
Facebook
Twitter
New node
LinkedIn
YouTube
Ning
Edmodo
Link Sharing & Tagging
Digg
Delicious
Stumble upon
Twitter, Packarati.us
Search within Networks
Twitter, Google featuring Twitter
Mendeley, Scholarly searches
LinkedIn Search
Social Learning Principles/Historical Analysis
Dewey: Experience & Education
I will draw on Dewey's work Experience in Education to try to draw parellels between experiential learning in a digital society.
It would seem that Vygotsky is a natural fit within the frameworks of social learning and social media. The founder of cultural psychology, Vgytosky's work focused on how we communicate with one another.
Gardner/Multiple Intelligences
Social Media and Web 2.0 lend themselves to the auditory, visual, and social skill sets.
Rousseau
Interested in the specific idea that Rousseau's theories seem to clash with modern day life --within an networked world, does this mean all children will be corrupted?
Bruner
Bruner's spiral learning approach, that ideas build upon one another, and children should be encouraged to reasearch and develop factual understandings that build on one another seem to compliment the ideas behind social media and research.
Communication Modes
Synchronous/Live
Skype
Chat
Twitter
Asynchronous
Email
Discussion Boards
Twitter, Backchannel Communication Types
LinkedIn
Facebook
Information Revolution
WorldSim Preview
Clay Shirky: instituions v. Collaboration
Hype or Real? Readings
Interview: Nicholas Carr from The Colbert Report, Does Google Make Us Stupid?
danah boyd's complete publication list
Implications for Learning
Higher Education
Future of Liberal Arts (Ted Talks)
Ray Kurzweil Singularity University
HASTAC
Wal Mart University
How Social Media Could Make Ph.D's Unnecessary
K-12
Charles Leadbeater: Education innovation in the slums
Twitter as a Personalized Learning Netowrk
Socially Learning Network for "Tweachers"
Modern Philosophers?