Study Skills
by
Mark Channon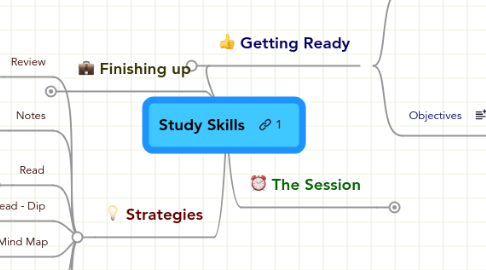 5.0
stars -
1
reviews range from
0
to
5
Getting Ready
Environment
Objectives
The clearer your vision the greater chance you have of achieving it.
The Session
Recap objectives
Time limit!
Food/Drink
Strategies
Review
Notes
Read
Super Read - Dip
Mind Map
Rehearse
Mnemonics
Techniques to improve your memory
Example
Example of memorising a key fact using mnemonics To remember a historic date, 'The Great Fire of London 1666 started in a Bakers Shop'. First create a key image for the date 666 – the devil (this will be enough to remind us that it's 1666) - Imagine London on Fire and Towering over it is the devil wearing a bakers hat, as you imagine this scene you say 'out loud' "The great fire of London started in a Bakers Shop 1666". This is fairly basic but you can take this concept and apply it to practically any information.
Finishing up
Revise
Rewards