Tobias Lütke - SchnitzelConf
by
Dan Taylor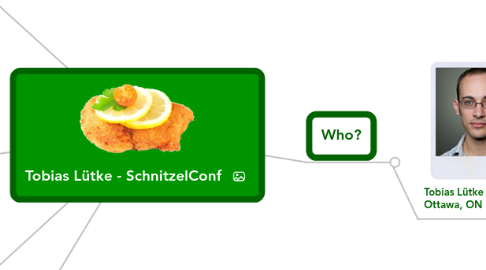 0.0
stars -
0
reviews range from
0
to
5
Tobias Lütke - SchnitzelConf
Who?
Tobias Lütke Ottawa, ON
Tobi Lütke, a German expat, is one-half of the original founding team of Shopify, the friendliest do-it-yourself ecommerce platform. Tobi is Schnitzelconf-orous because: He grew an ecommerce empire out of an online snowboarding shop, and made lots of changes along the way.
How to make money and then make more money, Phase 1, Step 1, build your signup page, Charge real money, Freemium is totally bull$hit, looks like you have no confidence in your own product, Step 2, Raise your prices until people complain, once you have your signup page, put expirations on your pricing options, prices good only until...., Take all your plans and add $5/month, People complain about prices...but are still buying, Best example: WINE, the world's most accurately priced product, Befriend the manager of an upscale eatery, Step 3, Help your customers think what you want them to think, Steve Jobs: iPad - "It's magical", result: massive queues at Apple stores, Shopping networks, call now and get something for free, Call now, but if the lines are busy - call back, changes customer perception, You need one too!, Tell your customers that they WANT the $99/month plan (the middle), Tell customers your pricing is reflective of your most popular option, ...which is will soon become., Phase 2, eff the better mousetrap, Build the better funnel and they will come., Your Traffic, visitors, People at /signup, leads, People who sign up for free trial, prospects, People who pay you, customers, Every piece of the funnel needs to be worked on, Yes, you need a sales team., luckily in the beginning, you don't need people, Inbound sales =, your website, Outbound Sales, Google Adwords, Start tracking data, Phase 3, Understand the hell out of your business, Know your margins, Revenue, servers, support, How much money you gain on average from customers, Know your churn rate, extremely difficult for startups, Customers, Cancelations, Churn Rate, Need to know your lifetime customer value, Average income, margin, revenue, churn, Lifetime customer value
Questions for Tobias, Pricing attitude change over time?, Let's keep the company as communist as possible, Since starting a company - completely opposite
Where?
Where will Schnitzelconf be held? In a nasty 1980s hotel ballroom? NO! In a sea of fusty faux red velour that's been crushed by 5 decades of butts in suits? No! Behind the lion, up the stairs… Yes, we're holding our conference in Vienna's incredible Museum of Natural History! It's the center of everything, and so easy to get to, with scenery that can't be beat. And, by the way, we'll have the museum to ourselves. We'll have snacks and lunch in this very (gorgeous) lobby, and the gorgeous staircases and scenery will be ours to look upon while we munch, chat, query, and connect. It's gonna rule!
When?
SchnitzelConf is a 1-day, full-contact conference in Vienna, Austria on September 7. The focus: creating products, launching businesses, and charging real money.
What?
You'll meet and learn from the founders of successful bootstrapped businesses—including Software as a Service, downloadable software, and digital goods. Hard-won knowledge will be shared. Fun will be had. Wine will be drunk. Inspiration will be sparked.
Legend
Nodes are drag and drop, place them anywhere you like
Use the + and - icons to expand/collapse nodes
Hover over the circle with lines to read attached notes
Well done!