UNIT-2
by rocio hernandez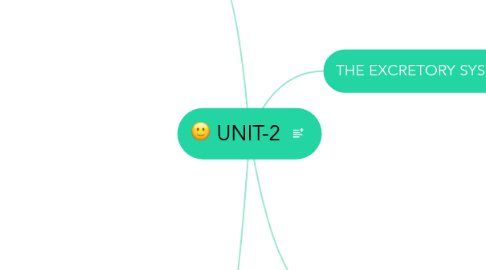 1. THE CIRCULATORY SYSTEM
1.1. BLOOD
1.1.1. Plasma is a yellowish liquid which is 90 porcent water. Carries nutrients and waste products.
1.1.2. Red blood cells give its colours. They carry oxygen and cabon dioxide.
1.1.3. Withe blood cells figth infections. They surround and absorb germs which enter our body.
1.1.4. Platelets join together and help stop bleeding.
1.2. BLOOD VESSELS
1.2.1. Arteries carry blood from the heart to the rest of the body. This blood contains oxygen.
1.2.2. Veins carry the blood back to the heart. This blood contains carbon dioxide
1.2.3. Capillares are tiny cells which connect the arteries and the veins.
1.3. HEART
1.3.1. 4 Chambers
1.3.1.1. aorta
1.3.1.2. ventricles
1.3.1.3. valves
1.3.2. The hall muscle in our body
1.4. THE CIRCULATION
1.4.1. Pulmunary circulation
1.4.2. systemic ciirculation
2. THE DIGESTIVE SYSTEM
2.1. TH EPROCESS
2.1.1. The nouse and the mouth. Our sens of smell tiggers the production of saliva in our mouth. This helps the teeth to crush the food.
2.1.2. The oesophagus. The tongue shapes the food into a ball called bolus. When we swallow, the bolus passes into the oesophagus. There is a special flat part at the back of the tongue called the epiglottis, then the eosophagus slowly squeeze the food downthe stomach.
2.1.3. The stomach. The stomach broke down the food. It does by using its srong musculars wall and excreting gastric juice. Which mix with the bolus and kill dangerous bacterias.
2.1.4. The small intestine. The food its dissolved in liquid broken. The small intestine mixes the bile a pancreas juice. The food mixtus is broken down into proteins, carboydrates, vitamins, minerals and fats. These nutrients pass through the small intestine and are absorved nto the blood.
2.1.5. The waste that our body does not need passes to the large intestine. Here water from this waste is absorved into the blood. The solid waste leaves our body trough the anus.
3. THE EXCRETORY SYSTEM
3.1. THE URINARY SYSTEM
3.1.1. The renal arteries carry blood to the kidneys.
3.1.2. The kidneys eliinate water and waste products from the blood.
3.1.3. Urine leaves the kidneys and passes down through to tubes called the ueteres tothe bladder.
3.1.4. When the bladder is about half- full it sends signals to he brain that it needs to be empred.
3.1.5. The bladder is empied by another tube called the urethra.
4. Other
4.1. RESPIRATON
4.1.1. When we take a breth air enters tough the mouth or the nouse. it pases down the pharynx and then to the trachea. The trachea divided into two tubes called bronchis anbd the smallest are the broncheolist.