Christopher Kahler
by
Dan Taylor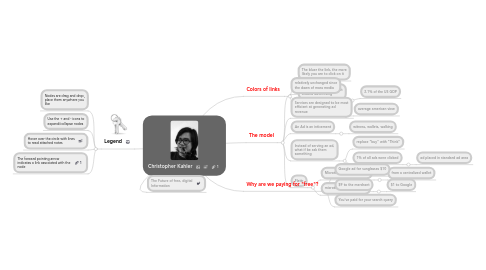 0.0
stars -
0
reviews range from
0
to
5
Chistopher Kahler was born in the Philippines, lived in Australia, Bangladesh and the Middle East and is now based in Austria. After an engineering study in the US, he earned a degree in biomechanics at the University of Vienna and founded his frst company in Shanghai. Christopher is busy with build- ing his second company. http://qriously.com/
The Future of free, digital Information
The vast majority of free in- formation and services on the Web, everything from Google to Facebook is financed through advertising. This approach has not changed since the begin- ning of the mass media. His lecture deals with thoughts on this fundamental change in the way we think about freedom of information.
Colors of links
The bluer the link, the more likely you are to click on it
today's digital life is built around advertising
2.1% of the US GDP
300-3000 ads per day
average american view
The model
relatively unchanged since the dawn of mass media
Services are designed to be most efficient at generating ad revenue
An Ad is an inticement
witness, wallets, walking
Instead of serving an ad, what if be ask them something
replace "buy" with "Think"
1% of all ads were clicked, ad placed in standard ad area
Flattr
Microtransaction donations, from a centralized wallet
microtransaction donation
Why are we paying for "free"?
Google ad for sunglasses $10
$9 to the merchant
$1 to Google
You've paid for your search query
Legend
Nodes are drag and drop, place them anywhere you like
Use the + and - icons to expand/collapse nodes
Hover over the circle with lines to read attached notes
Well done!