Long-term effects of Alzheimer's disease treatment
by
Paul de Roos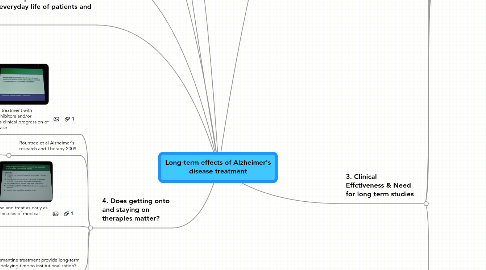 0.0
stars - reviews range from
0
to
5
Long-term effects of Alzheimer's disease treatment
Navigation
Author
A. Atri
1. Overview
Cost of AD to society & families
bird's eye view of impact of AD
Clinical efficacy
etc. see pic
2. Clinical Efficacy
Domains
Global overview of the 4 key domains - significant differences favouring memantine
Memantine reduces caregiver burden
Expectations for treatments
3. Clinical Effctiveness & Need for long term studies
examples
Rationale for naturalistic longitudinal studies
Drug efficacy vs effectiveness clinical studies
Compare real-life clinical trajectory of cognition and function between three treatment groups of AD patients
4. Does getting onto and staying on therapies matter?
Study: Persistent treatment with cholinesterase inhibitors and/or memantine slows clinical progression of Alzheimer's Disease
Rountree et al Alzheimer's research and Therapy 2009
Why diagnose and treat as early as possible - principles of medical ethics
Does memantine treatment provide long-term benefits delaying time to institutionalisation?
When to stop treatment
5. communication problems have an impact on everyday life of patients and caregivers
Concluding remarks
6. Acknowledgements
picture