Fall into Autumn!
by Kelsey Hyatt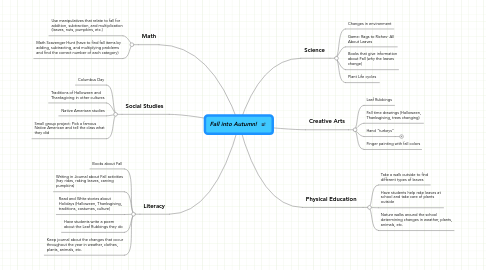 1. Science
1.1. Changes in environment
1.2. Game: Rags to Riches- All About Leaves
1.3. Books that give information about Fall (why the leaves change)
1.4. Plant Life cycles
2. Math
2.1. Use manipulatives that relate to fall for addition, subtraction, and multiplication (leaves, nuts, pumpkins, etc.)
2.2. Math Scavenger Hunt (have to find fall items by adding, subtracting, and multiplying problems and find the correct number of each category)
3. Physical Education
3.1. Take a walk outside to find different types of leaves
3.2. Have students help rake leaves at school and take care of plants outside
3.3. Nature walks around the school determining changes in weather, plants, animals, etc.
4. Literacy
4.1. Books about Fall
4.2. Writing in Journal about Fall activities (hay rides, raking leaves, carving pumpkins)
4.3. Read and Write stories about Holidays (Halloween, Thanksgiving, traditions, costumes, culture)
4.4. Have students write a poem about the Leaf Rubbings they do
4.5. Keep journal about the changes that occur throughout the year in weather, clothes, plants, animals, etc.
5. Creative Arts
5.1. Leaf Rubbings
5.2. Fall time drawings (Halloween, Thanksgiving, trees changing)
5.3. Hand "turkeys"
5.3.1. New node
5.4. Finger painting with fall colors
6. Social Studies
6.1. Columbus Day
6.2. Traditions of Halloween and Thanksgiving in other cultures
6.3. Native American studies
6.4. Small group project: Pick a famous Native American and tell the class what they did