CONTRACEPTIVES
by Julie W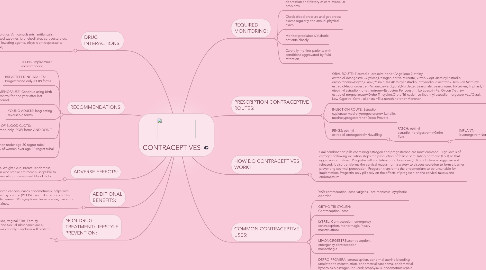 1. DRUG INTERACTIONS:
1.1. Antibiotics, Anticonvulsants, antifungals, benzodiazepines, bronchodilator, corticosteroids, lipid-lowering agents, tricyclic antidepressants (TCAs)
2. REQUIRED MONITORING:
2.1. Carefully monitor patients with depression and history of cardiovascular problems.
2.2. Check blood pressure and get breast exams regularly and annual physical exam.
2.3. Monitor prediabetic/diabetic patients closely
2.4. Carefully monitor patients with conditions aggravated by fluid retention
3. PRESCRIPTION CONTRACEPTIVE ROUTES:
3.1. ORAL ROUTE: 1)estradiol-drospire-none=Angelique 2)ethinyl estradiol-desogestrel=Cyclesa,Desogen,Kariva,Mircette, Ortho-Cept 3)ethinyl estradiol drospirenone=Beyaz,Gianvi,Yasmin,Yaz 4)ethinyl estradiol-ethynodiol diacetate=Demulen 5)ethinyl estradiol-levonorgestrel=Aviane,Levlen,Lybrel,Nordette, Seasonale, Seasonique, Tri-Levlen, Triphasil, Trivora-28 6)ethinyl estradiol-nor-ethindrone=Estrostep Fe, Loestrin, Lo Loestrin Fe, Ovcon 7)ethinyl estradiol-norgestimate=Ortho Tri-cyclen,Ortho Tri-cyclen Lo 8)ethinyl estradiol-norgestrel=Lo/Ovral, Low-Ogestrel,Ovral, ulipristal=Ella,norethindrone=Micronor
3.1.1. EMERGENCY CONTRACEPTIVE (OTC): levonorgstrel= Next Choice, One Step, Plan B
3.2. INJECTION ROUTE: Estradiol cypionate-medroxyprogesterone= Lunelle, medroxyprogesterone=Depo-Provera
3.3. RINGS: ethinyl estradiol-etonogestrel=NuvaRing
3.3.1. PATCH: ethinyl estradiol-norelgestrominOrtho Evra,
3.3.1.1. IMPLANT: levonorgstrel=Norplant II
4. RECOMMENDATIONS:
4.1. TEENS: Implant/IUD recommended
4.2. BREASTFEEDING ADULTS: Progesterone-only (POP) forms
4.3. MENOPAUSE: Continue using birth control for one year after last period.
4.4. YOUNG ADULTS: long-acting reversable forms
4.5. HISTORY OF BLOOD CLOTS: Progesterone-only (POP) forms AND DON'T SMOKE!!
4.6. 30% of women under age 30 regret tubal ligation/ 5% of women over age 30 regret tubal ligation
5. HOW DO CONTRACEPTIVES WORK?
5.1. Oral combination-pills containing estrogen and progesterone are most common. High levels of estrogen following ovulation stops the production of follicle-stimulating hormone (FSH) so that eggs cannot mature. Progestin will end luteninizing hormone (LH) production so eggs are not released. It also transforms the cervical mucus from a watery to viscous secretion to form a barrier preventing spermal penetration. Progestin transforms the endometrium to be unsuitable for implantation. Progestin-only pills rely on the effects of progestin on the cervical mucus and endometrium.
6. ADVERSE EFFECTS:
6.1. Nausea,Weight Gain, Breast Tenderness, Women who smoke are more susceptible to cardiovascular problems and blood clots;
7. COMMON CONTRACEPTIVE USES:
7.1. YAZ: contraception, acne vulgaris, pre-menstrual dysphoric disorder
7.2. ORTHO TRI-CYCLEN: Contraception, acne
7.3. LYBREL: Contraception, emergency contraception, menorrhagia (heavy menstruation)
7.4. LEVONORGESTREL:contraception, emergency contraception, menorrhagia
7.5. DEPRO-PROVERA: contraception, abnormal uterine bleeding unrelated to menstruation, endometrial carcinoma, endometrial hyperplasia/estrogen-induced; prophylaxis, endometriosis/pain, renal cell carcinoma, secondary physiologic amenorrhea
8. ADDITIONAL BENEFITS:
8.1. Lowers risk of some cancers, eases endometriosis, helps with polycystic ovarian syndrome (PCOS), can make periods lighter and more regular, eases PMS symptoms, lessens acne, can stop menstrual migraines.
9. NON-DRUG TREATMENT/LIFESTYLE PREVENTION:
9.1. Male/Female Condoms, Spermicide, Vaginal Film, Fertility Awareness, Withdrawel Method, and Sexual Abstinance are all ways to prevent "pregnancy", however only Condoms will protect from disease.