Objective-Students will be able to correctly convert between forms as appropriate.
by mathteacher 988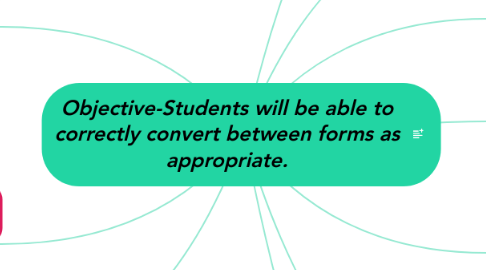 1. Technology helps motivate students to produce high quality work and see the relevance and beauty of Mathematics
2. Formal and informal assessment and interest questionnaire to determine interest and learning profiles.
3. Formative and summative assessment to determine readiness levels
4. ELL-Fluent level 8th grade-Math
4.1. Continue to develop ELL students' vocabulary, reading and writing skills.
4.2. Frayer-Model for Math Topic Vocabulary Words
4.3. Students record their own audio instructions how to convert between rational number forms using Chromebook or Recording App
5. Other Strategies
5.1. Flexible Grouping
5.2. Computer Simulations e.g. Gizmo
5.3. Independent Contracts
5.4. Video Annotations- VideoAnt
6. Advanced Learner-8th grade-Math
6.1. Learning Menu- including a choice of a video assignment using ScreenCastify
6.2. Project Based Learning Assignments to develop deeper thinking skills- BIE Inst.
7. Slower Learner- 8th grade-Math
7.1. Strategies- KhanAcademy to fill in gaps in learning.
7.2. Provide audio feedback on submitted assignments using Kaizena
8. Differentiating Lesson Plans to Meet Student Needs-m5u3a1-McNeese
9. Differentiated learning should prepare students for demands of the 21st century and provide opportunity for success for every student allowing students to use their individual interests, learning profiles, and Readiness Levels.
10. References